Greensboro, N.C. — Call it a slump, or maybe just the result of the normal ups and downs in a shooter's season. Either way, J.J. Redick finally appears to be beyond his struggles.
"I didn't really consider it a slump," Duke's star guard said. "There's been a lot written and a lot said, and I've fielded a lot of questions from you about it, but I'm just happy we won."
In the Atlantic Coast Conference tournament, the third-ranked Blue Devils rarely do anything else.
Redick had 25 points and made a clutch jumper in the final minute, Shelden Williams had his sixth straight double-double, and Duke held off Miami, 80-76, Friday in the quarterfinals.
Williams finished with 14 points and 13 rebounds, while DeMarcus Nelson also scored 14 for the top-seeded Blue Devils (28-3), who desperately needed a victory after losing their final two games of the regular season. They finally put away the Hurricanes (16-15) in a thrilling game that featured 17 ties and 22 lead changes.
"We can put up a lot of points, but we can't hang our hats on that," Duke coach Mike Krzyzewski said. "That's why we've been tested these last couple of weeks. How good are we going to be on the defensive end of the court, whether we hit or not? We were tested with that today."
The Blue Devils improved to 24-1 in this event since 1999, and they move on to the semifinals to face 12th-seeded Wake Forest, which stunned No. 25 North Carolina State, 82-71.
Guillermo Diaz and Anthony King each had 16 points for Miami, and teammate Robert Hite scored 15.
"We had a couple of plays down the stretch that we botched up that could've given us a better chance," Miami coach Frank Haith said. "But I can't fault our guys' effort, how they competed."
No. 15 Pittsburgh 68, No. 2 Villanova 54
New York - Antonio Graves scored 18, and freshman Levance Fields added a career-high 14 to help Pittsburgh reach the Big East tournament finals for the fifth time in six years.
No. 5 Memphis 68, Houston 54
Memphis, Tenn. - Shawne Williams scored 23 and grabbed eight rebounds to pace Memphis in the semifinals of the Conference USA tourney.
No. 7 Ohio State 63, Penn State 56
Indianapolis - Ron Lewis scored 17, and Ohio State rallied from 12 points down in the second half with a flurry of three-pointers in the quarterfinals of the Big Ten tournament.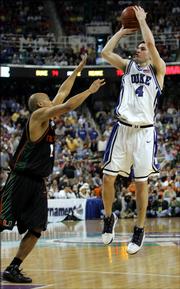 The top-seeded Buckeyes found out shortly before the game the university had been put on three years' probation by the NCAA.
Michigan State 61, No. 9 Illinois 56
Indianapolis - Paul Davis and Maurice Ager each scored 16 points, and Davis added eight rebounds to lead Michigan State.
James Augustine had 16 points and 15 rebounds, but the Illini (25-6) failed to reach the semis for the first time in the nine-year history of the tournament.
No. 10 North Carolina 79, Virginia 67
Greensboro, N.C. - Reyshawn Terry had 24 points, freshman Tyler Hansbrough added 17, and North Carolina overcame a sluggish start in the quarterfinals of the Atlantic Coast Conference tournament.
The Tar Heels won their eighth straight.
Virginia's Sean Singletary had 29 points and 10 rebounds.
No. 11 Boston College 80, Maryland 66
Greensboro, N.C. - Craig Smith had 21 points, 15 rebounds and seven assists to lead Boston College past Maryland in the ACC quarterfinals.
No. 13 UCLA 71, Arizona 59
Los Angeles - Freshman Darren Collison scored a career-high 15, Arron Afflalo and Luc Richard Mbah a Moute added 12 each, and UCLA took command early in the second half in the Pac-10 semifinals.
South Carolina 79, No. 14 Tennessee 71
Nashville, Tenn. - Tre Kelley scored 25, and South Carolina advanced to the Southeastern Conference tournament semifinals.
No. 16 Florida 74, Arkansas 71
Nashville, Tenn. - Lee Humphrey scored a career-high 25, and Florida beat Arkansas in the SEC quarterfinals. The Gators (25-6) will play LSU, the regular-season champion, in the semifinals today.
No. 17 LSU 92, Vanderbilt 73
Nashville, Tenn. - Glen Davis matched his career-high of 28 points and finished with 13 rebounds to lead LSU in the SEC tournament quarterfinals.
No. 20 Iowa 67, Minnesota 57
Indianapolis - Jeff Horner scored 26 to lead Iowa in the Big Ten tournament quarterfinals. Horner's six three-pointers tied a tournament record.
Syracuse 58, No. 23 Georgetown 57
New York - Gerry McNamara hit another big three-pointer to get the Orange (22-11) within one with 52 seconds left, assisted on Eric Devendorf's go-ahead basket and caused a turnover with 1.5 seconds left in the victory.
No. 24 UAB 63, Texas-El Paso 60
Memphis, Tenn. - Squeaky Johnson scored 12 and added six assists to lead UAB in the semifinals of the Conference USA tournament.
Wake Forest 82, No. 25 N.C. State 71
Greensboro, N.C. - Eric Williams scored 20 points to lead Wake Forest to its second upset of the Wolfpack in a week.
Copyright 2018 The Associated Press. All rights reserved. This material may not be published, broadcast, rewritten or redistributed. We strive to uphold our values for every story published.