Little Rock. Ark. — Storms moving across the southern Plains on Thursday brought winds strong enough to rip off roofs and blow apart barns. At least two deaths were attributed to the weather, and thousands of people lost power.
Southern Oklahoma had baseball-sized hail and surrounding states saw heavy rain as the front moved east across the Mississippi River.
Around Little Rock, the high wind rolled over a mobile home and damaged about a dozen other homes, and trees and power lines were down across the state. Road signs were reported bent in Johnson County, in northwestern Arkansas. A 78-mph gust was reported in the northeastern part of the state.
About 7,600 homes and businesses lost electricity when power lines went out after being hit by trees or other power lines, and the wind kept workers from making immediate repairs.
"It's kind of like a yo-yo out there," said Entergy Arkansas spokesman James Thompson.
In the southwestern town of Ashdown, an 83-year-old city councilman died after lightning struck his house and started a fire. His wife was injured but survived.
A couple in Tilton suffered cuts and bruises after they left their mobile home and took shelter in their vehicle. The storm blew out the vehicle's windows - but the trailer was destroyed, said Gerald Britton, a deputy emergency coordinator in Cross County.
Other homes in the county also were damaged, Britton said.
Lost shingles and downed fences in Lonoke County may have been caused by a tornado, the weather service said. Another tornado may have touched down in Woodruff County, where trees and power lines were down in Morton, the National Weather Service said.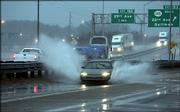 Arkansas Gov. Mike Huckabee said he will declare five counties disaster areas, entitling them to state money for the cleanup.
In Mississippi, students at Lockard School in Indianola were ordered into hallways just before a tornado struck, assistant principal Valerie Simpson said. No one was hurt, but the storm caused roof damage to three buildings and blew out windows.
Winds as high as 80 mph took off roofs and otherwise damaged homes in Bolivar and Panola counties, said Lea Stokes, spokeswoman for the state emergency agency.
Students in several counties were sent home.
"Some of the trees that made it through Katrina might not make it through this," said Ceroy Jefferson, assistant superintendent for Jefferson Davis County Schools. "We just want children to be safe at home."
The rough weather was caused by a storm system moving from the northwest ahead of a cold front. The main storm system was moving into the rest of the South on Thursday afternoon, and more thunderstorms were possible from another system expected to be centered in Missouri.
Storms were expected through Monday.
Copyright 2018 The Associated Press. All rights reserved. This material may not be published, broadcast, rewritten or redistributed. We strive to uphold our values for every story published.