Palm Beach, Fla. — Gusty winds sent 8-iron shots flying 245 yards, while some 4-irons struggled to go 185. The breezes had a few balls fluttering on the slick greens, most of the players couldn't break par, and golf's rarest feat spiced up the afternoon.
Indeed, Thursday's opening round of the Honda Classic had almost everything.
David Toms made five straight birdies to highlight his 5-under round of 67, and he shared the first-round lead with Geoff Ogilvy, Ryuji Imada and Mathias Gronberg - the seventh alternate who didn't know he was officially in the field until Wednesday morning.
"There are some good scores today, even with the conditions," Toms said. "Somebody is always going to play well, no matter who is in the field."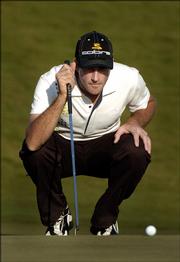 Southeast winds from 15 to 25 mph, with higher gusts, began blowing early and strengthened steadily before dissipating some by day's end. The average score was 74.28 - the highest first-round mark on tour this year, and three players couldn't play their final hole because of darkness.
Ogilvy's round was bizarre: 11 pars, two eagles, two birdies, a bogey, a double bogey - and a double eagle on the sixth hole. His tee shot, with the wind, went 373 yards; his 8-iron from 169 hit the green, hopped three times and dropped in the cup's center.
"When things are going your way," said Ogilvy, who won the Match Play Championship this season, "things are going your way."
It was the second double eagle on tour this year.
Of the leaderboard's top 18 players, 13 finished by lunch. Brian Gay - who was in the first group and had the only bogey-free round - Billy Mayfair and Jeff Gove were one shot back at 4-under, with Shaun Micheel, 2000 Honda winner Dudley Hart, Scott Hend and John Cook all at 69.
Copyright 2018 The Lawrence Journal-World. All rights reserved. This material may not be published, broadcast, rewritten or redistributed. We strive to uphold our values for every story published.