They said it was a 5-0 vote, but it's safe to assume city commissioners weren't truly unanimous in asking for City Manager Mike Wildgen's resignation Wednesday.
What happened was this: Commissioners Sue Hack, David Schauner and Mike Rundle agreed it was time to seek Wildgen's resignation.
That was a majority.
In the interest of making the inevitable more palatable, Mayor Boog Highberger and Commissioner Mike Amyx agreed to make unanimous the vote accepting Wildgen's resignation.
Commissioners are refusing to confirm this scenario, either publicly or off the record. They say it is too soon to talk about it.
But others know and are talking privately.
And there have been some broad hints dropped publicly that commissioners weren't unanimous in wanting Wildgen to step down.
As late as December, Highberger had expressed public support for Wildgen. When Wildgen received the Kansas Association of City/County Management's Buford Watson Award for Excellence in Management, Highberger made a point to praise Wildgen during the Dec. 13 City Commission meeting.
Photo Gallery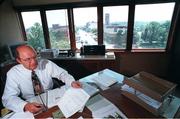 Mike Wildgen
"We think your award is right on target," Highberger said. "We realize we have a good one here."
When asked Thursday what had changed since December, Highberger said people shouldn't assume his opinion of Wildgen had changed at all.
"I stand by those comments," Highberger said.
But Highberger stopped short of going into details about the split among commissioners on retaining Wildgen. Instead, he maintained the policy to speak with "one voice" on the subject.
"We think it is important in this transition time that we work together to the greatest extent possible," Highberger said.
The actual majority that ousted Wildgen runs contrary to speculation spreading through the community and amplified on discussions on Internet message boards. The speculation has fingered the trio of commissioners elected with the help of the "Progressive Lawrence Campaign." Those candidates - Highberger, Rundle and Schauner - campaigned together on a common platform that growth was not paying for itself and that the community was not planning well enough.
But it has been clear there were concerns with Wildgen's leadership from groups that fell outside the Progressive Lawrence Campaign's constituency. Developers have expressed strong concerns about the fact city leaders are uncertain whether the sewer system can handle projected growth in the northwest area of town.
For example, while the Lawrence Chamber of Commerce didn't specifically call for a change in the city manager's position, its leaders made it clear that the sewer situation was unacceptable.
"The city at large is expected to be a purveyor of certain services, and one of those is certainly wastewater," said Lavern Squier, president and chief executive of the chamber. "It is unfortunate, to say the least, that we find ourselves in this situation. But right now, I think the key issue is that we have to look forward."
Looking forward to how the next city manager will be chosen is something several City Hall-watchers are doing these days. The hiring of the next city manager takes a simple majority vote, which means the candidates elected under the Progressive Lawrence Campaign could band together and choose the next city manager.
But whether that would produce a new city manager who could feel stable in the position is uncertain. That's because all three Progressive Lawrence commissioners will be up for re-election in April 2007.
Copyright 2018 The Lawrence Journal-World. All rights reserved. This material may not be published, broadcast, rewritten or redistributed. We strive to uphold our values for every story published.