Homeowners shouldn't expect the city to help pay for sidewalk repairs in front of their homes anytime soon.
City commissioners on Thursday expressed little interest in changing a city policy that requires property owners to fix deteriorating public sidewalks adjacent to their property. But commissioners said they would like to consider creating special financing programs that could make it easier for homeowners to pay for a sidewalk replacement, which often can cost $3,000 or more on a typical city lot.
"We have a lot of property owners who just can't afford to pay $3,000 in any one year for a sidewalk repair," City Commissioner Mike Amyx said. "And we can't force someone to pay something they can't pay."
Current policy allows the city to make sidewalk repairs in front of a person's home and then add the repair costs onto the homeowner's property tax bill. The city's practice is to add the full amount onto the property tax bill in a single year.
Commissioners at Thursday's study session said they wanted staff members to explore a policy that would allow the homeowner to reimburse the city in multiyear payments.
"The city could serve as the bank, so to speak," said David Corliss, interim city manager. "We could tell them that they owe us $300 per year for 10 years."
Other ways to help residents more easily shoulder sidewalk responsibilities also will be explored. Staff members said they would investigate creating a program that would allow homeowners who are interested in fixing small stretches of sidewalk to have their projects included in a larger annual concrete bid that the city lets. Homeowners still would be responsible for paying for the repairs, but the bid process should produce better prices for homeowners.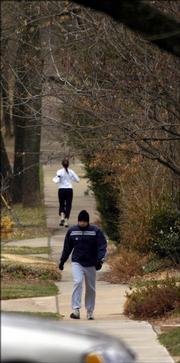 City Commissioner Mike Rundle said he also wanted the city to explore the idea of a grant program that would provide city money to low-income people who have sidewalks along their property that need repair.
Members of the city's public works staff - which oversees many of the city's sidewalks - said they were supportive of the ideas.
"We would love it," said Chuck Soules, director of public works. "Sidewalks have been a real tough issue for us."
That's in part because the city policy only has been enforced on a complaint basis. That means areas where complaints are made are targeted for repairs, but other sidewalks in similar disrepair are not because they have not been the subject of a complaint.
"We get accused of singling people out," Corliss said.
Commissioners agreed to discuss any financial implications related to the changes during budget sessions this summer.
Copyright 2018 The Lawrence Journal-World. All rights reserved. This material may not be published, broadcast, rewritten or redistributed. We strive to uphold our values for every story published.