Debbie Nall runs the cafeteria cash register at Central Junior High School. She's biased.
Dixie Workman oversees the kitchen. She, too, is biased.
The Jayhawks, they say, are good. Sooners, Cornhuskers and Tigers are not.
They've been set in their rock-chalk ways for years. That's why an ever-increasing number of student-made Jayhawks can be seen hanging from the cafeteria's ceiling.
"There are 259 up there now," Nall said Thursday.
The Jayhawk exhibition has become a March Madness tradition at the school, 1400 Mass.
"It started back in 1992," Nall said. "The National Dairy Council had a contest to see which junior high could increase its breakfast participation the most."
"We got to thinking - what could we do to win that contest?" she said.
They invited then-coach Roy Williams, who - surprise! surprise! - accepted.
"He was so nice," Workman said.
"He even gave a little speech on how important it was to start the day with a good breakfast," Nall added. "He signed a bunch of autographs."
Attendance for that day's breakfast shot up 600 percent.
Photo Gallery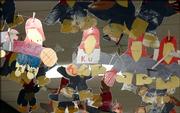 Rock Chalk Flock
"We won the contest," Nall said. "We beat out every other junior high in the United States and Canada."
Before Williams' visit, Nall had noticed some construction paper Jayhawks on the walls at Cordley School, where her daughter was in kindergarten.
"I thought they were cute," Nall said. She asked Bev Hyde, second-grade teacher at Cordley, if she could borrow them.
Hyde's students have been making Jayhawks for Central's cafeteria ever since.
"It's become a tradition," Hyde said.
Nall saves each year's Jayhawks for the next year's exhibit.
"I think it's really neat," said Regan Keller, a Cordley alumnus who's now an eighth-grader at Central. "I get to show my friends which ones are mine. I have two up there because I was in second grade one year and the next year the second- and third-grade classes were together."
Though cut from a stencil, each Jayhawk is different.
"They're characterized," Hyde said. "The kids turn them into whatever characters they want. They could be a soccer player, a scientist, a hula dancer - it's whatever they want."
Nall and Workman said they've not yet tested coach Bill Self's ability to boost breakfast attendance.
"We just haven't gotten around to inviting him," Nall said. "We will, but it's such a busy time for him. It's March Madness!"
After the NCAA tournament, the artwork will be taken down.
"I think we'll make it to the Final Four," Nall said. "Of course, we say that every year, don't we?"
"We do," Workman said, laughing.
Copyright 2018 The Lawrence Journal-World. All rights reserved. This material may not be published, broadcast, rewritten or redistributed. We strive to uphold our values for every story published.