EL DORADO — Rains dampened the fire danger Thursday across much of the state's parched grasslands, as Butler County officials surveyed the damage from a blaze that charred 10,700 grassland acres a day earlier.
"Many times, weather can cause some serious problems in Kansas, but this time it was a godsend," Gov. Kathleen Sebelius said in a news release. "The rain helped us in the end. However, the real thanks goes to all those who worked together in containing and extinguishing this fire."
The fire began just east of Towanda on Wednesday afternoon and quickly spread - ultimately engulfing an area 4 miles wide and 8 miles long, said Kathy Guy, assistant director of emergency management for Butler County.
On Thursday, officials assessed the final damage: at least 10 outbuildings were damaged or destroyed and two homes suffered minor damage. Three oil wells also caught fire.
Guy said that was "pretty incredible" considering the vast area burned.
"Nobody lost a home, nobody got hurt, nobody got killed," Guy said.
Nearly 475 fire, emergency management and law enforcement officials from 34 different agencies responded to the blaze, bringing with them 175 pieces of equipment.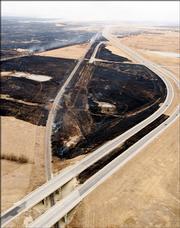 The county used a reverse 911 system to automatically call about 150 residents to evacuate their homes. Most were back in their homes by 6 p.m., less than four hours after receiving the call, she said.
By 9 a.m. Thursday, the fire was declared completely out.
Thursday's rain was a mixed blessing. Fields were now soggy, which could be a concern if fire trucks need to go out again, she said.
"What was amazing last night, during the period of time we were in the midst of firefighting, we got put under a tornado watch," Guy said. "We all kind of looked at each other like, 'Sure, why not?'"
But even with the showers, Kansas is not out of fire danger.
The center's official two-day outlook calls for a critical fire weather threat across a large area of the southern and central Plains today. The critical fire weather area includes southwestern Kansas, New Mexico, southeastern Colorado, central Oklahoma and north-central Texas.
Copyright 2018 The Lawrence Journal-World. All rights reserved. This material may not be published, broadcast, rewritten or redistributed. We strive to uphold our values for every story published.