Wichita — Jerry McReynolds was stringing wire fence at his Woodston farm with his son and his hired hand this week when a loud boom startled the men and spooked the cattle in a nearby pen.
They all stopped working. McReynolds guessed it was probably a passing plane breaking the sonic boom. The men scanned the sky. "We all looked at each other and wondered what it was - we hadn't heard it for so long," McReynolds said. "We decided it was thunder."
But the thunder coming from the storm just over the horizon brought no rain to his powdery dry ground. This spring marks the sixth year of drought on their northern Kansas countryside.
Across Kansas, the drought is deepening. Parts that got rain last year are parched after the warm, dry winter. Topsoil moisture is running short to very short in 95 percent of the state, according to the Kansas Agricultural Statistics Service.
On Thursday, rains brought scattered relief. Whether they continue into this spring and summer will be key to the survival of many farmers - especially this growing season when high energy prices are boosting costs for fertilizer, irrigation and fuel.
A confluence of factors - weather, government payments, markets - are all coming together this season to create a perfect storm of sorts for the nation's farmers.
After two back-to-back record income years, the Agriculture Department's Economic Research Service has already forecast 2006 farm income nationwide to decline to $56.2 billion, down from the $76.2 billion farmers raked in during 2005.
Government statisticians cite numerous factors for this season's decline. Production value for both crops and livestock overall are expected to be lower. Government payments are expected to be less. And costs are much higher.
Or, looked at another way: the average farm operator's household income in 2006 is forecast at $80,344. That's down 3.7 percent from a year ago, but still 17.4 percent above the five-year average, according to the Agriculture Department's forecast.
But those stats are meaningless for farmers in drought-stricken areas like Texas, Oklahoma and Kansas who are paying skyrocketing input costs to plant crops and raise livestock in the midst of a drought.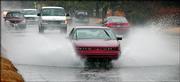 Those farmers can probably take more comfort in some of the numbers churned out by Kansas State University agriculture economist Kevin Dhuyvetter, who has an ongoing study to see the impact of higher energy costs on wheat growers.
He calculated that a dryland farmer in central and eastern Kansas probably will see their costs increase about $12 per acre compared to normal years. But since the price of wheat has been running about $1 a bushel higher than the five-year average, he expects wheat growers will make about $40 an acre more for their wheat even after paying for those higher fuel costs.
"Bottom line, my numbers are suggesting that 2006 won't necessarily be that bad a year for nonirrigated farmers," Dhuyvetter said.
For farmers who irrigate their crops, the kind of year they face depends on their location. In western Kansas - where water is deep and pumping costs are high - it could be a difficult year, he said. But farmers in eastern Kansas and north-central Kansas, where water is not that deep, will be affected less.
Dhuyvetter warned that just because commodity prices have risen enough to offset the higher costs of fuel and fertilizer, it does not mean producers should not be concerned.
"Our research consistently shows that the difference between most profitable farms and least profitable farms is highly related to cost management," he said. "Thus a year like 2006 could widen the gap between successful and unsuccessful farms."
All the government studies, of course, assume farmers will have a crop to harvest.
Mark Wood, an economist with the Kansas Farm Management Assn. in Colby, is familiar with the balance sheets of farmers in northwest Kansas, which has been in a drought since 2000. Despite that, the area got just enough rain last year to raise good corn crops.
He's worried now about this season's winter wheat crop, which is trying to break dormancy with no moisture to sustain it. "We have not lost our wheat crop yet, but out of its nine lives we have probably lost four of them now."
Banks are worried, and the general level of concern is slowly increasing along with the lack of rainfall so far this winter, he said. But that's not keeping farmers from spending money.
"I judge farmers' mood by how they spend their money, and these farm auctions are well attended and bring good money - so they seem to be pretty positive that way. But that is the only thing positive," he said. "Most of them act like they are just plain tired already."
At his farm in Woodston, McReynolds was glad to have the warm, dry weather for calving. But he worried about where he will pasture his cattle this summer if grassland is parched again.
His winter wheat fields already are showing signs of stress, turning a brownish dull color where plants are running out of moisture.
Copyright 2018 The Associated Press. All rights reserved. This material may not be published, broadcast, rewritten or redistributed. We strive to uphold our values for every story published.