City commissioners still aren't certain about how they'll find a replacement for City Manager Mike Wildgen, one day after he was forced to resign.
Business continued as normal Thursday at City Hall, but commissioners did not set a definite timetable for finding a replacement. Nor did they decide whether a consulting firm would be hired to do a national search for Wildgen's successor.
Mayor Boog Highberger said commissioners likely would have a better idea how to proceed by next week.
"I do know that whatever process is chosen, I want there to be as much community participation as possible," Highberger said.
Wildgen announced his resignation Wednesday after 16 years as the city's top executive. Commissioners cited concerns that Wildgen had not adequately planned for growth, and that the city's sewer and street systems were plagued by problems. David Corliss, assistant city manager and director of legal services, was named interim city manager.
How long Corliss will be asked to serve as interim city manager, though, is unknown. Highberger said it was certain the city would conduct a national search for Wildgen's replacement, but he said the commission still had to discuss whether a consultant should be hired to help attract and cull applicants.
Other searches in limbo
Photo Gallery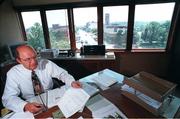 Mike Wildgen
City Commissioner Mike Amyx - who, if tradition holds, will be selected by fellow commissioners to serve a one-year term as mayor in April - said commissioners needed to decide whether to continue searches already under way for a new planning director and director of utilities. Both positions currently are filled by acting directors.
Technically, the city manager is responsible for filling the positions, though city commissioners would have strong input. But Amyx said Wildgen's departure might make filling the positions more challenging.
"A new planning director or utility director would want to know who their boss would be, and right now we can't tell them," Amyx said.
Highberger said he would like for the searches to continue but said the decision must be made by the entire commission.
Commissioners also will have to discuss what qualities they are seeking in a new city manager. Some commissioners began to open up slightly about that subject Thursday.
"What we need as a commission is professional advice, professional long-term planning, professional guidance," City Commissioner David Schauner said. "And if that means a bit stronger hand on the tiller, that might be OK. But we really haven't made that decision as a commission yet."
Sewers still priority
There was more certainty expressed by commissioners about issues staff members need to address during the transition period.
"We have to resolve our sewer issues," Amyx said. "That should be our main priority."
City planners have refused to give final approval to some projects in northwest Lawrence because they are uncertain the area's sewer system can accommodate additional growth. A report by the engineering firm Black & Veatch is being prepared that will address how the system could be upgraded. Highberger said that report - scheduled for release in May or June - won't be delayed by Wildgen's departure.
Commissioners also want work to continue on finding a site for a new $75-million sewer treatment plant along the Wakarusa River, which must be completed by 2011 to accommodate the city's growth.
Highberger also said he expected staff to continue work on shuttling the city's proposed Development Code through the approval process. The Development Code ranks as a major project because it will replace the city's 40-year-old zoning code and is expected to guide how growth will occur in the city for years to come.
Perhaps more than anything, commissioners said, Corliss and his team will be expected to ensure day-to-day city services carry on so average citizens won't notice that there's been a change in leadership.
"This was an agonizing deal," Amyx said of the process surrounding Wildgen's resignation. "But where we are right now, the way I've got it figured, is that we have a community to run."
Copyright 2018 The Lawrence Journal-World. All rights reserved. This material may not be published, broadcast, rewritten or redistributed. We strive to uphold our values for every story published.