New York — Gerry McNamara waited one day to one-up himself.
The senior guard hit a three-pointer with less than a second to play to give Syracuse a victory over Cincinnati in the opening round of the Big East tournament.
On Thursday, his three with 5.5 seconds left in regulation tied the game, and the ninth-seeded Orange went on to beat No. 1 Connecticut, 86-84 in overtime.
"I said yesterday's shot was the best under the circumstances," an exhausted McNamara said Thursday. "I'd have to change that to today's. We needed it."
The victory should help the Orange (21-11) end any talk about whether they deserve an at-large bid to the NCAA Tournament.
"Obviously they're a tournament team," Connecticut coach Jim Calhoun said. "I thought they were a tournament team yesterday."
That was a McNamara highlight show ago.
On Wednesday, his running three with less than a second to play meant a 74-73 victory over Cincinnati.
He topped that performance in the quarterfinals by scoring 17 points and handing out 13 assists, one short of the tournament record.
"He amazes me every time I see him play. He has more guts than anybody I've ever coached," said Syracuse's Jim Boeheim, who apologized for using profanity in defending McNamara on Wednesday after local media reported the player was overrated. "As soon as he released it, there was never a doubt. There was nothing but net.
"I'd say it's one of the best wins, if not the best, Syracuse has ever had."
The loss shouldn't affect the No. 1 seed expected to go to Connecticut (27-3), but it ended a 10-game winning streak in the Big East quarterfinals for the Huskies.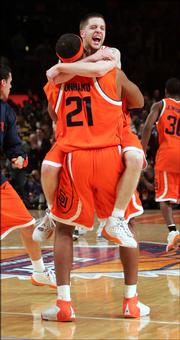 Syracuse will face No. 22 Georgetown in today's semifinals.
No. 2 Villanova 87, Rutgers 55
New York - Allan Ray scored 19 of his 26 points in the second half as Villanova advanced to the semifinals of the Big East tournament.
Will Sheridan added 17 points and 13 rebounds for the Wildcats (25-3), who will play No. 15 Pittsburgh tonight.
Quincy Douby scored 31 points - 24 in the first half - to lead 10th-seeded Rutgers (18-13).
No. 5 Memphis 75, Tulane 56
Memphis, Tenn. - Rodney Carney scored 18 points, and Darius Washington added 15 to lead Memphis in the quarterfinals of the Conference USA tournament.
The top-seeded Tigers (28-3) benefited from an aggressive defense and great outside shooting, going 11-of-28 from outside the arc.
Chris Moore led the Green Wave (12-17) with 21 points.
Temple 68, No. 6 G. Washington 53
Cincinnati - Temple's matchup zone left George Washington's high-powered offense in a shambles, setting up the upset in the Atlantic 10 tournament quarterfinals.
George Washington (26-2) was only the fourth team to make it through the A10 regular season without a loss. The unblemished record ended against a team known for making opponents look bad at tournament time.
The Owls (17-13) held the conference's top offense to 33 percent shooting from the field.
Antywane Robinson led Temple with 19 points, while Carl Elliott led the Colonials with 18 points.
No. 13 UCLA 79, Oregon State 47
Los Angeles - Ryan Hollins scored a season-high 17 points to lead UCLA in the Pac-10 tournament quarterfinals.
The top-seeded Bruins (25-6) will play fourth-seeded Arizona (19-11) in today's semifinals.
Marcel Jones scored 19 points and to lead Oregon State (13-18).
No. 15 Pittsburgh 68, No. 19 West Virginia 57
New York - Freshman Sam Young, making his first start of the season, had 14 points and 11 rebounds to lead Pittsburgh in the quarterfinals of the Big East tournament.
Aaron Gray had 19 points and 15 rebounds for the Panthers (23-6).
Kevin Pittsnogle had 22 points for the third-seeded Mountaineers (20-10).
No. 21 Nevada 68, Idaho 55
Reno, Nev. - Nick Fazekas had 20 points and nine rebounds to lead Nevada to its 12th straight victory and a spot in the semifinals of the Western Athletic Conference tournament.
Marcelus Kemp added 14 points, DeMarshay Johnson 11 and Mo Charlo 10 for the Wolf Pack (25-5), who won the WAC's regular season title and now own the second longest winning streak in the NCAA behind Gonzaga's 18.
Freshman David Dubois had 25 points and eight rebounds, and Tanoris Shephard added 16 points for the Vandals (4-25).
No. 23 Georgetown 62, Marquette 59
New York - Brandon Bowman went 6-for-6 from the free-throw line in the final minute to help Georgetown advance in the Big East tournament.
Steve Novak hit his sixth three-pointer with 5.6 seconds left to bring Marquette within 60-59. But Bowman restored the three-point lead with two free throws with 5.1 seconds left. Jerel McNeal missed a 30-footer at the buzzer that would have tied the game.
Jeff Green had 16 points, nine rebounds and five assists to lead the Hoyas (21-8).
Novak finished with 18 points for Marquette (20-10).
No. 24 UAB 69, SMU 55
Memphis, Tenn. - Lawrence Kinnard scored 12 points as four UAB players finished in double-figures in the Conference USA tournament quarterfinals.
As usual, the Blazers' defense contributed to the offense. UAB forced 26 turnovers, leading to 27 points. UAB (23-5) won its seventh straight and nine of 10.
Bryan Hopkins led the 10th-seed Mustangs (13-16) with 13 points, but was 5-of-15 from the field.
Copyright 2018 The Associated Press. All rights reserved. This material may not be published, broadcast, rewritten or redistributed. We strive to uphold our values for every story published.