Kassie Humphreys hit the depths early last April.
"I fell below sludge," said Humphreys, a Kansas University softball pitcher.
She was the starting and losing pitcher in a 13-1 loss to Texas A&M; at Arrocha Ballpark. Battling her control all season, her woes seemed to culminate that fateful afternoon.
"That really hit me," Humphreys said. "I thought I didn't have it anymore, and I never got my confidence back."
Coach Tracy Bunge rarely used Humphreys on the mound during the remainder of the 2005 season, and the 5-foot-11 right-hander from Glendale, Ariz., found a new role in the dugout.
"I took over as cheerleader," she said with a chuckle.
Humphreys was one of the Big 12 Conference's best pitchers as a freshman in 2004. She posted a 14-12 record with a glossy 1.57 earned-run average. Little did she know that a year later she would become a poster girl for the sophomore jinx.
Over that summer, she somehow lost the strike zone. Back with the Jayhawks in '05, she walked 50 batters in 78 innings. Moreover, she threw a whopping 12 wild pitches. Her ERA was 4.81, astronomical for softball.
Last summer, she seemed to have rediscovered her mojo.
"I put in a lot of work in the offseason," Humphreys said. "When I came back, I passed the running test. I had never passed it before, but I did this year."
In that test, KU softball players are required to run 15 consecutive 100s, all of them under 19 seconds. Humphreys credits Molly McKinnon, the KU strength coach assigned to softball, for getting her in shape to survive that grind.
"Molly deserves the credit. She did it," Humphreys said.
So far, so good. In this season's early going, Humphreys' won-lost record is only 5-6, but her record just as easily could be 9-2 because of one-run losses.
"She's been solid," Bunge said. "Kassie has had only two poor games. Otherwise, she's been consistent."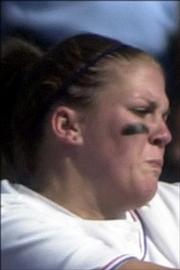 Humphreys' poor outings were against Tennessee and Notre Dame, two of the nation's best teams. More typical of her outings was Wednesday's 3-0 blanking of Missouri State. In that game, she surrendered only four singles and a walk while striking out eight.
"It really, really helps your confidence when the offense can score," Humphreys said, "and our offense has been really good."
Kansas will play host to a three-day tournament at Arrocha Ballpark this weekend. Today, the Jayhawks will meet Eastern Michigan at 2 p.m. and Minnesota at 4 p.m. Saturday, it'll be Portland State at 2 p.m. and EMU at 4 p.m. The finale will be against Minnesota at noon Sunday.
Copyright 2018 The Lawrence Journal-World. All rights reserved. This material may not be published, broadcast, rewritten or redistributed. We strive to uphold our values for every story published.