Dallas — Jim Wooldridge came to the Big 12 Conference tournament this week knowing that a four-game winning streak - and subsequent NCAA Tournament berth - was the law if he wanted to keep his job.
Just hours after losing in the opening round, he was fired as Kansas State's head basketball coach.
KSU athletic director Tim Weiser announced the decision at a news conference Thursday at American Airlines Center, the same day the Wildcats fell, 73-65, to Texas Tech. Weiser confirmed that an ultimatum was passed down to Wooldridge in the preseason, and the guarantee of it not being fulfilled was enough for KSU to move on.
"Yeah, I do," Weiser said, asked if he thought a four-game winning streak would have saved Wooldridge's job. "The expectations were pretty clear. We wanted to be in the NCAA Tournament."
Considering Wooldridge's dismissal had been expected for a while, most of Weiser's time spent with the media focused on the search ahead of him. The list of candidates might include Kansas University assistant Tim Jankovich, a KSU standout from 1979-82.
Jankovich declined comment when approached at AA Center on Thursday, where he was preparing to scout the Iowa State-Oklahoma State game. Weiser, however, was asked if Jankovich would be ruled out because of his KU ties.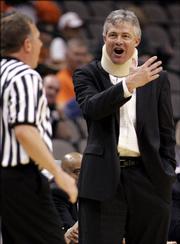 "No," Weiser said. "I wouldn't tell you that I would be narrow-minded enough to say that just because somebody works at a rival institution that we wouldn't consider them. I think we find ourselves with a lot of candidates with a lot of unique experiences. I'm really more interested in the fit."
Weiser also hinted that someone with knowledge of Kansas State would be appealing.
"We want someone that's familiar with our situation," Weiser said. "Does that mean it has to be a K-Stater? No. It doesn't have to be. I think all things being equal, it'd be great if we can find somebody that has some ties to that part of the country."
Wooldridge went 83-90 overall, including 32-64 in the Big 12 in six seasons at K-State. His best conference record was 6-10 - done four times - and he never finished higher than a tie for seventh in the conference standings.
More damning for him, though, was his lack of NCAA Tournament berths. Wooldridge never even received an invitation to the NIT, fueling one of the most dismal stretches in Kansas State basketball history.
The firing was all but a certainty for some time, but the news still saddened his coaching colleagues, including KU's Bill Self.
"We all around the league think Jim is a good coach and hate when this sort of thing happens around the league and wish him the very best," Self said. "He carried himself with such dignity dealing with the rumors about his job and also understanding the health problems he had. Every coach in the league really respects him for that."
Wooldridge was not present at the press conference, but said in the postgame media session immediately following KSU's loss Thursday that "there's an announcement that's going to be made."
It came only a few hours later from Weiser, who was alone at the table in front of dozens of reporters.
It's the second major coaching search Weiser will go through in four months. Football coach Bill Snyder retired at the end of the football season and was replaced by Virginia offensive coordinator Ron Prince.
Weiser said he expected the basketball search to be conducted in a similar fashion as football - and stressed he would take as long as necessary.
"Unlike the football search, we do have a little more flexibility with the timing of this because of the fact that we've got kids coming back," Weiser said. "I do realize we have scholarships in the future we want to fill, but we're not going to hurry up and make a mistake."
Copyright 2017 The Lawrence Journal-World. All rights reserved. This material may not be published, broadcast, rewritten or redistributed. We strive to uphold our values for every story published.