Longtime City Manager Mike Wildgen resigned Wednesday.
City commissioners asked him to leave, citing concerns about inadequate planning for the city's growth. His last day will be Friday after 16 years on the job.
"We have taken this decision to address the challenges that are facing the city of Lawrence in the future," Mayor Boog Highberger said, following a 5-0 vote to accept Wildgen's resignation after a 90-minute closed door executive session.
David Corliss, an assistant city manager and the director of legal services, will serve as interim city manager after Wildgen's resignation becomes effective at 5 p.m. Friday.
Wildgen issued a brief statement Wednesday afternoon saying it had been an honor to serve as city manager since 1990 and thanked staff members and the city commissions he has served under.
"I am a strong supporter of the city manager form of government," Wildgen said. "One of the basic tenets of the form of government is the responsibility of the city commission to select and retain the city manager."
Wildgen, though, did not respond to criticism that he had failed to adequately plan for the city's growth and development in recent years. He left City Hall after resigning and did not return phone calls to his home seeking further comment. An avid jogger, he was seen shortly after his resignation running on the Kansas University campus.
Photo Gallery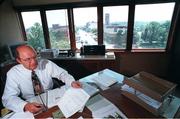 Mike Wildgen
Wildgen, 58, joined the city in 1974 as an assistant city manager and was named acting city manager in October 1989 following the death of Buford Watson. As city manager, Wildgen generally was regarded as the most powerful nonelected official in city government. He oversaw the city's $126 million budget and had final authority on all personnel matters related to the city's 750-member work force.
Infrastructure issues
When pressed, Highberger said concerns about the inability to provide adequate sewer service to growing parts of town and the need to rehabilitate major portions of the city's street network were prime factors in the decision to seek Wildgen's resignation.
"I think there are concerns about providing infrastructure to the city over the long term," Highberger said.
Individual commissioners refused to answer questions about why they had voted for his resignation, instead referring questions to Highberger.
The announcement - which occurred about noon - created a buzz around the community from supporters and detractors of Wildgen.
"I think he is a decent human being, but I think it is no secret that there were problems in planning, and the buck has to stop with Mike," said David Burress, a Lawrence-Douglas County planning commissioner who has criticized staff for not being active enough planners. "I really think change is good at this point in time."
Mark Buhler, an executive with Stephens Real Estate, said the fact that city officials refused to give final approval to some developments in northwest Lawrence because they were uncertain the city's sewer system could handle the projected growth represented a lack of leadership at City Hall.
"To wake up one day and say we can't flush north of West Sixth Street is incredible," Buhler said. "It is just incredible."
Buhler said holding the city's top executive responsible for planning mistakes was reasonable, but he said the issue went much deeper.
"I do believe leadership has to start at the top, and the City Commission is at the top," said Buhler, who is a former county commissioner and state senator. "For several terms now, this commission has not spoken with a consistent voice.
"I compare it to a family. If the parents are constantly fighting, how do you expect the kids to do the right thing?"
'Hard to replace'
John Nalbandian - a city commissioner from 1991 to 1999 and chairman of Kansas University's department of public administration - said he thought Wildgen had done an adequate job of alerting commissioners to potential problems, but that the community had not always been willing to spend the money to address problems.
"This is not a Wildgen problem," Nalbandian said. "This is not about management. It is about people's willingness to spend money.
"What we do over and over again is we wait for a crisis, and then we spend the money. What that type of attitude does is it makes it very difficult to plan."
County Commissioner Jere McElhaney said the forced resignation was a sign that a majority of city commissioners had become inflexible and difficult to work with.
Mike Wildgen
Age: 58 Work history: Joined the City of Lawrence in 1974 as assistant city manager. Named acting city manager on Oct. 25, 1989. On April 12, 1990, Wildgen had the acting title removed. Before joining the city he worked two years each in the city manager's office in Olathe and in the city development department in Kansas City, Mo. Education: Master's degree in public administration from Kansas University in 1972. Family: Wildgen grew up in Hoisington, where his parents owned and operated the Barton County Lumberyard. Wildgen and his wife, Linda, have two children, Chris and Anne.
"Even our County Commission has had problems working with this City Commission," McElhaney said. "So it doesn't surprise me that this City Commission can't get along with anybody. It is going to be hard to replace somebody who is knowledgeable like Mike Wildgen."
Search details
Replacing Wildgen's experience and knowledge of the city will be difficult, said several people familiar with the workings of City Hall.
"Mike has been around City Hall for a long time," said Rod Bremby, secretary of the Kansas Department of Health and Environment who served as an assistant city manager under Wildgen for 10 years. "He knows the organization probably better than anyone."
Wildgen's resignation continues a trend of longtime city employees who recently left City Hall. Planning Director Linda Finger, a staff member since 1978, resigned under pressure in late 2005. The city's director of utilities, Roger Coffey, and fire chief Jim McSwain both retired in 2005 following careers that stretched more than 20 years with the city.
City commissioners also expressed appreciation for Wildgen's years of service.
"Mike has been incredibly dedicated to this community," Highberger said. "He loves this community very much, and he's really built a strong organization. He has hired a lot of really excellent staff members, and his service is very much appreciated and will be for years to come."
Highberger said the process for replacing Wildgen had not yet been determined. He said the commission wanted to move forward "fairly quickly," but would conduct a nationwide search.
The mayor also said that commissioners had not yet discussed qualities they would be seeking in a new city manager.
Also not finalized is a severance package for Wildgen, who earns $121,144 per year, plus benefits. Highberger said the severance package was being reviewed by attorneys and would be up for approval at the commission's Tuesday evening meeting.
Highberger said Wildgen would be available as a consultant during the transition to a new manager.
Corliss in command
Until commissioners find a replacement, Corliss, 44, will oversee day-to-day city operations. Corliss - who joined the city in 1990 as a management analyst and worked his way up to assistant city manager by 2000 - said he would work with city commissioners to address their concerns about planning. But he also expressed gratitude for the job Wildgen had done.
"If you love Lawrence, you should thank Mike Wildgen for making Lawrence a great place," Corliss said. "I look forward to helping the commission during this transition period and tackling and responding effectively to the challenges that the community has before it."
Interim city manager
David Corliss, acting city manager; interim city manager as of Friday Age: 44 City experience: 1990, joined Lawrence City Hall as a management analyst. 1996, named director of the city's Legal Services Department. 2000, became one of two new assistant city managers. Keeps his responsibilities as director of Legal Services. Prior experience: From 1987 to 1990 served on the staff of the Kansas League of Municipalities. Education: Came to Lawrence in 1980 to attend Kansas University. Received an undergraduate degree, a master's in public administration and a law degree, all from KU. Family: He and his wife, Sarah, have three daughters.
Copyright 2018 The Lawrence Journal-World. All rights reserved. This material may not be published, broadcast, rewritten or redistributed. We strive to uphold our values for every story published.