Her hitters produced 14 runs. Her pitchers allowed only one earned run.
Tracy Bunge saw a lot to like in Wednesday's home-opening doubleheader sweep of Missouri State at Arrocha Ballpark, yet Kansas University's softball coach burned some ears afterward.
"Flat : I feel we were flat," Bunge said following the postgame debriefing with her players. "We did some good things offensively, but this is a good defensive team that isn't playing good defensively."
Kansas committed three errors in the 11-3 first-game romp and another in the 3-0 nightcap victory.
"We looked like the Bad News Bears in the first game," Bunge said. "We need to get better defensively. When we get in the Big 12, if we make two, three or four errors we'll be in trouble."
The errors seemed inconsequential the way the Jayhawks were hitting in the opener. Every member of the lineup had at least one hit to pace a 10-hit attack against two Missouri State pitchers. The game was shortened to five innings by the eight-run rule.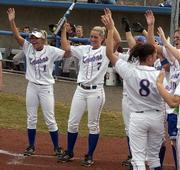 Freshman Stevie Crisosto slammed a three-run double and added another RBI on a groundout. Crisosto also doubled in the second game. But she also made an error at first base, a new position for her.
"I came here as a middle infielder," Crisosto said, "but I knew I would be playing there because of Destiny (Frankenstein) and Jessica (Moppin). I've never played first base before, and it's definitely tougher than I thought it was."
Bunge has been using Crisosto in center field, too, although the first-year player was stationed at first base in both of Wednesday's games.
"Don't put much stock in that," Bunge said. "That could change. We've been searching for some hitting in the lower part of the lineup, and we're still looking."
Crisosto, Serena Settlemier and Moppin, who hit a solo homer over the center-field fence in the nightcap, collected three hits apiece. Heather Stanley homered and doubled, while Kassie Humphreys had two hits and drove in a pair of runs.
Settlemier and Humphreys trade off. When one is pitching, the other stays in the lineup as the DH. That's an old role for Settlemier, a fifth-year senior, but something new for Humphreys, a junior.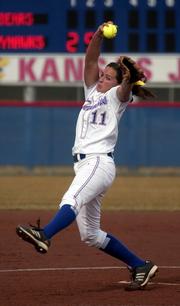 "Actually, I've never really liked doing both," Humphreys said, "but this year I'm a little more focused and into multi-tasking."
On the mound, Humphreys allowed only four singles and struck out eight in a complete-game shutout. Settlemier was the winner in the opener. Only one of the three Bears' runs was earned.
Humphreys is trying to bounce back from a dreadful sophomore season after a sparkling freshman year. She was 14-12 with a 1.57 earned-run average as a frosh, but 5-6 with a 4.81 ERA last season. Late in the spring, she spent most of her time in the dugout.
"I took over as a cheerleader," Humphreys said with a smile, "but I put in a lot of work in the offseason, and I'm in better shape. I had never passed our running test before, but I did this year."
Kansas (11-10) will play host to the Jayhawk Classic this weekend. The Jayhawks will open Friday against Eastern Michigan (2 p.m.) and Minnesota (4 p.m.).
¢ Notes: Missouri State left-fielder Katie Martin, a Baldwin High product, had a hit, scored a run and stole a base. : KU freshman third baseman Val Chapple and Moppin scored four runs apiece. :Frankenstein was charged with her sixth error, matching her total for all of last season.
Copyright 2018 The Lawrence Journal-World. All rights reserved. This material may not be published, broadcast, rewritten or redistributed. We strive to uphold our values for every story published.