Emporia — Free State High didn't have the answers. Then again, maybe the Firebirds weren't expected to.
None of the Firebirds came into their Class 6A girls basketball quarterfinal with any state-tournament experience, and none could explain exactly what went wrong in a 56-39 loss to Wichita South on Wednesday night at White Auditorium.
One thing was clear: On the biggest night of the year, Free State simply was not itself.
"I could tell that we just looked extremely exhausted," Free State senior Tricia Dunham said. "I don't think any of us could really point out what it was."
After accomplishing so much in the last six weeks - winning eight straight games and upsetting Olathe East to make it to state - the Firebirds lacked the intensity on defense and the firepower on offense that had gotten them this far.
Free State battled to an 11-11 first-quarter tie before showing its fatigue in the next eight minutes. Led by seven points from Megan Lassley, South went on a 17-6 run to take a comfortable halftime lead.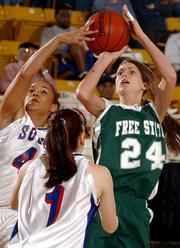 "I think we came out ready to play," Free State junior Kelsey Harrison said, "and then once things didn't go our way, it went downhill from there."
For a while, Harrison was the only Firebird offensive threat. After consecutive baskets in the third quarter, the 5-foot-11 forward had scored 16 of Free State's 25 points to single-handedly keep the team in it.
"We were almost forcing everything on offense," Harrison said. "It's just frustrating when they force you to take shots you normally don't take. They made us work on offense, and we're not too used to that."
The Firebirds never did get into a rhythm, with South's guard pressure affecting leading scorers Jenna Brantley and Lauren Kimball. The two juniors combined to make just four of 26 shots from the floor.
Free State looked to gain momentum late in the third quarter after baskets from Harrison and Kimball cut the lead to nine. South also found its leading scorer on the sideline, as Lassley was forced to the bench because of a cut under her chin.
But the Titans not only maintained their lead in Lassley's absence - they extended it.
The South sophomore returned after her team had put together a 7-0 run, immediately contributing a layup to push the lead back to 18.
Free State failed to use its size advantage inside, as South outrebounded the Firebirds, 41-32. Michelle Price was especially effective inside, grabbing 13 caroms - seven on the offensive end.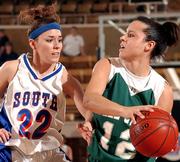 "You have to give their big girls inside a lot of credit," Free State coach Bryan Duncan said, "for being very physical and doing a great job on the boards."
Harrison led the Firebirds with 16 points. Kimball and Brantley both added six.
Part of the nerves might have come from the Firebirds working themselves up before the game. The entire team watched from the front rows as Blue Valley North beat Olathe South in the final seconds of the 6:30 contest.
"Watching that game definitely made us all nervous," Harrison said. "We were all just sitting over there thinking, 'Wow.'"
Dunham, Banaka Okwuone and Sarah Heider all participated in their final games as seniors.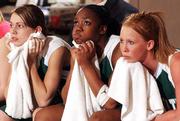 Though her season ended with a loss, Dunham remained proud of how far the group had come.
"We've been working for this since I've been here," Dunham said. "This is what our goal has been. We finally made it. We were hoping to go farther, but I'm proud of just being able to make it here."
With four starters returning next season, Duncan hopes his team will not only be back - but that it will have a few more answers.
"Our three seniors really got us here and helped get this program to where we want it to be," Duncan said. "Now, it's the underclassmen's turn to really take that to the next level."
Copyright 2018 The Lawrence Journal-World. All rights reserved. This material may not be published, broadcast, rewritten or redistributed. We strive to uphold our values for every story published.