Kansas University freshman Brandon Rush, named first-team all-Big 12 Conference by the league coaches Monday, was named second-team all-conference by the Associated Press on Tuesday.
It marked the first time a Big 12 championship team did not have a player listed on the AP's first team.
"This happens when you have great balance on a team. It's difficult for guys to get individual recognition," KU coach Bill Self said.
His Jayhawks have double-digit scorers in Rush and Mario Chalmers, with five other players averaging between 6.5 and 8.8 points per game.
Rush, who leads the league's freshmen in scoring at 14.1 points a game, was the No. 1 vote-getter on the second team.
Iowa State's Curtis Stinson, named second-team all-league by the coaches, earned first-team AP, with Texas' P.J. Tucker and LaMarcus Aldridge, Texas Tech's Jarrius Jackson and Colorado's Richard Roby.
Roby, Tucker, Aldridge and Jackson were coaches' first-teamers also.
Chalmers made third-team all-AP, while Russell Robinson and Julian Wright were honorable mention. Chalmers and Wright were coaches' honorable-mention picks, while Robinson was ignored by the coaches.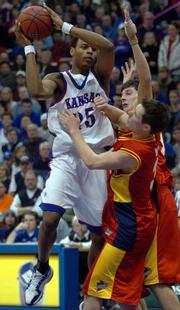 Self said he felt Robinson deserved honorable-mention recognition, but could understand why the coaches overlooked his 6-foot-1 sophomore guard.
"To make honorable mention," Self said, "you have to be voted third team by at least one of the coaches. Sometimes even coaches don't always know the impact certain guys have on a team. I thought Mario deserved third team and Russell honorable mention."
Chalmers averages 10.9 points and 3.8 assists per game; those numbers jumped to 14.3 points and 4.4 assists in league games.
"Mario has 81 steals and didn't play much early," Self gushed of the 6-2 Anchorage, Alaska, native, who broke Darnell Valentine's school freshman record of 80 steals, set in 1978. "Anything you beat with Darnell Valentine's name on it is an unbelievable accomplishment."
Chalmers is just eight steals shy of Nebraska's Cookie Belcher, the all-time Big 12 freshman steals leader.
"It's a matter of getting in the passing lanes and getting some steals. I give the credit to Russell. He helps me out a lot," Chalmers said of Robinson, who has 59 steals.
Meanwhile, the 6-6, 207-pound Rush received seven votes for the first team, 10 for the second and seven for the third. Aldridge and Tucker were unanimous picks. Jackson received 16 firsts, Roby 15 firsts and Stinson 14. Stinson had eight second-place votes, while Roby and Jackson had seven apiece. Stinson had three thirds, while Roby had two and Jackson none.
The team was selected by a panel of 24 media representatives who cover the Big 12.
The second team was made up of Rush; Terrell Everett, Oklahoma; Cartier Martin, Kansas State; Taj Gray, Oklahoma; and Acie Law, Texas A&M.; The third team was made up of Chalmers; Joseph Jones, A&M; Will Blalock, Iowa State; Daniel Gibson, Texas; and Thomas Gardner, Missouri.
Today, it should be made official that Self is AP coach of the year and Rush freshman of the year. It would be a sweep for Rush and Self, who were so honored by the coaches on Monday.
AP All-Big 12 men's basketball teams
First Team P.J. Tucker, Texas, Jr., 6-5, 225, Raleigh, N.C. LaMarcus Aldridge, Texas, Soph, 6-10, 237, Dallas, Texas Curtis Stinson, Iowa St, Jr., 6-3, 215, Bronx, N.Y. Richard Roby, Colorado, Soph, 6-6, 195, San Bernardino, Calif. Jarrius Jackson, Texas Tech, Jr., 6-1, 185, Monroe, La.
Second Team Brandon Rush, Kansas, Fresh., 6-6, 202, Kansas City, Mo. Terrell Everett, Oklahoma, Sr., 6-4, 188, Charleston, S.C. Cartier Martin, Kansas St, Jr., 6-8, 220, Houston, Texas. Taj Gray, Oklahoma, Sr., 6-9, 238, Wichita, Kan. Acie Law, Texas A&M;, Jr., 6-3, 185, Dallas, Texas.
Third Team Joseph Jones, Texas A&M;, Soph, 6-9, 250, Normangee, Texas. Mario Chalmers, Kansas, Fresh., 6-1, 182, Anchorage, Alaska. Will Blalock, Iowa St., Jr., 6-0, 205, Boston, Mass. Daniel Gibson, Texas, Soph, 6-2, 190, Houston, Texas. Thomas Gardner, Missouri, Jr., 6-5, 213, Portland, Ore.
Honorable Mention Michael Neal, Okla.; Mario Boggan, Oklahoma St.; Russell Robinson, Julian Wright, Kansas; Aaron Bruce, Baylor; Aleks Maric, Nebraska; Brad Buckman, Texas; Kevin Bookout, Oklahoma.
Copyright 2018 The Lawrence Journal-World. All rights reserved. This material may not be published, broadcast, rewritten or redistributed. We strive to uphold our values for every story published.