After months of criticism over City Hall's failure to anticipate the extent of Lawrence's growth, longtime City Manager Mike Wildgen this morning submitted his resignation.
Assistant City Manager Dave Corliss was appointed by the City Commission to serve as the interim city manager.
After three days of evaluations, commissioners said Wednesday morning they had asked for Wildgen's resignation.
"We appreciate the years of service Mike has given to the community," the commission said in a written statement. "Lawrence has greatly benefited from his dedication and service."
The press release added: "The City Commission has made a change in leadership in the position of city manager to respond to the challenges facing the Lawrence community."
Wildgen will be available as a consultant during the transition period, commissioners said.
Commissioners first met on Thursday to conduct Wildgen's annual evaluation. They met for two hours without Wildgen in a closed-door executive session. When they emerged, they said they needed more time and scheduled another session for Monday morning. Commissioners on Monday were originally scheduled to meet two hours, but came out 30 minutes early and said they hadn't yet finished their discussion. Wildgen was in the room for Monday's discussion.
Photo Gallery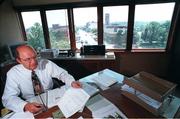 Mike Wildgen
Mayor Boog Highberger declined at the time to get into specifics about what performance issues had led to the lengthy review. But Wildgen and staff members have received tough questions regarding whether the city has adequately planned for growth. Concerns about whether the sewer system can handle projected growth in the northwest area of town has stopped some private developments from receiving final city approval.
Amid the concerns, longtime planning director Linda Finger resigned her position at the end of the year after being told by city administrators her future with the city had dimmed.
Wildgen has had extended reviews in the past. Last year commissioners met for two days to discuss his performance, but ultimately voted unanimously to give him a 3 percent pay raise and publicly praised his experience and integrity.
In January 2002, Wildgen was put on a six-month evaluation schedule after commissioners said they wanted him to make city government more "user-friendly." Wildgen was evaluated six months later and received passing grades and a 3 percent raise, though current City Commissioner Mike Rundle voted against the pay increase.
Wildgen has a long history with the city. He came to Lawrence in 1974 as an assistant city manager, but he was made acting city manager following the death of then-city manager Buford Watson in 1989. Wildgen had the acting title removed in April 1990 after commissioners conducted a nationwide search. Wildgen is only the fifth city manager in Lawrence history.
Copyright 2018 The Lawrence Journal-World. All rights reserved. This material may not be published, broadcast, rewritten or redistributed. We strive to uphold our values for every story published.