Between the fourth and fifth innings in the second game of Haskell's home doubleheader against Bethany College on Tuesday, Haskell coach Gary Turner walked to the scorer's table and asked the official scorer the number of errors his team had made in the two games.
The response was not something any coach wants to hear: 12.
Those errors caused the Fightin' Indians to lose both games of the twinbill, 12-2 and 10-1.
"Fundamentals killed us," Tanner said. "I don't even know how many of the runs we gave up were earned. We couldn't throw the ball, and we couldn't catch the ball. We couldn't throw the ball to first base on two bunts. We were just throwing it around all over the place."
The first bad throw to first base on a bunt came in the top of the first inning of the opening game. After Haskell pitcher April Johnston walked the first two batters, Sarah Logan dropped down a bunt down the third-base line that appeared as if it were going to roll foul.
But third baseman Demetria Wilson scooped up the ball on the chalk and fired it to first. The throw was low, skipping past the first baseman and the right fielder who had come in to back up the play. Logan came all of the way around to score, making it 3-0 Bethany.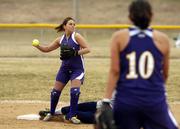 Bethany capitalized on Haskell errors to score three runs in each of the first four innings.
Haskell tried to mount a comeback in the bottom of the fifth, but scored only two runs and the game was called because of the 10-run rule.
"We got down on ourselves after that first error," Johnston said. "We just couldn't overcome it."
Haskell had no errors in the first two innings of the second game, holding Bethany scoreless in the process.
In the third, however, three Haskell errors led to five Bethany runs. Bethany scored four more in the four inning and added the 10th run on a Kelli Noonan home run that easily cleared the fence in left field.
"It's a credit to the players because they have been working hard this year," Bethany coach Janice Esses said. "We have been hitting the ball really well and driving it into the gaps. We did a good job of that again today."
Haskell (4-11) will head to a weekend tournament in Salina.
Copyright 2018 The Lawrence Journal-World. All rights reserved. This material may not be published, broadcast, rewritten or redistributed. We strive to uphold our values for every story published.