Spokane, Wash. — Mark Few has seen enough of San Diego this season.
"San Diego was a handful in the second half. They have been all year," the Gonzaga coach said after Adam Morrison scored 24 points to help the No. 5 Bulldogs beat San Diego, 96-92, in overtime in a semifinal game of the West Coast Conference tournament Sunday. "They shoot the ball extremely well. The best thing they do is really spread you out."
Top-seeded tournament host Gonzaga (26-3) will play today for the league championship.
Nick Lewis had a game-high 26 points for fifth-seed San Diego (18-12), including a basket as time expired in regulation that tied the game at 85.
The Bulldogs survived an upset on free throws and three-point plays in the second half of the physical game, which sidelined Gonzaga center JP Batista. The senior forward suffered a mild knee sprain in the first half and didn't start the second half.
No. 4 Villanova 92, Syracuse 82
Syracuse, N.Y. - Fans came in record numbers to celebrate the career of Orange guard Gerry McNamara. Then the Villanova Wildcats put a damper on their day.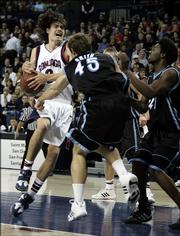 Allan Ray scored 28 points, Randy Foye had 21, and Villanova beat Syracuse in McNamara's final regular-season home game.
The win for Villanova earned the Wildcats a tie for the conference title with Connecticut and a second seed in the Big East tournament.
No. 9 Ohio St. 76, Purdue 57
Columbus, Ohio - After waiting 14 years for an outright Big Ten title, Ohio State's fans had to wait until the second half to start their celebration.
Terence Dials scored 20 points, and the Buckeyes broke the game open with a 14-2 blitz to start the second half.
J.J. Sullinger had 16 points for the Buckeyes, who have won their last five games and are the top seed heading into this week's Big Ten tournament in Indianapolis.
Jamar Butler added 15 points.
No. 17 Florida 79, Kentucky 64
Lexington, Ky. - Joakim Noah had 15 points and 11 rebounds to lead Florida, giving the Gators a fourth straight win over the Wildcats for the first time in the 79-year history of the series.
Kentucky lost on Senior Day for only the fifth time in 86 years.
The Gators won for the first time in Rupp Arena since 1998.
Copyright 2018 The Associated Press. All rights reserved. This material may not be published, broadcast, rewritten or redistributed. We strive to uphold our values for every story published.