Lance Hill grew up in Lawrence but for a long time has lived in New Orleans.
He was there when Hurricane Katrina wiped out thousands of homes, killing hundreds of people.
"My wife and I live in Uptown," he said. "We didn't evacuate because we've been through enough hurricanes - we know that neighbors make the best first responders. They know where the elderly live."
Hill, 55, was raised in Lawrence. He was Lawrence High School student council president in 1968.
He read the news stories last month about the U.S. Senate Homeland Security and Governmental Affairs Committee blasting federal officials for their ham-handed response to Katrina.
He's not impressed.
"They spent months conducting an investigation that reached the same conclusion that most Americans reached after the first day of the news coverage," Hill said during a recent telephone interview from his office at Tulane University, where he's executive director at the Southern Institute for Education and Research, an in-the-trenches program that fights prejudice and poverty throughout the Deep South.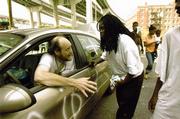 He's especially irked that six months after Katrina, no one has been accountable for the decision to withhold food and water from the 20,000 evacuees stranded at the city's convention center.
After the hurricane, Hill, who lives in the nearby Uptown neighborhood, hauled food and water to the convention center.
Hill made four trips to the convention center on Sept. 2, four days after Katrina struck.
"I was turned away at gunpoint on the final trip," he said.
"I had mothers mobbing my car, begging for Similac and Pedialyte - baby formula - because their babies were dehydrating," Hill said. "It was just appalling."
Not all of New Orleans, he said, was destroyed. His neighborhood, for example, was without electricity for several weeks, and most of its streets were blocked by toppled trees.
Food and water were available.
"To this day," he said, "the perception is that incompetence prevented people (at the convention center) from getting relief when, in fact, it was a deliberate policy."
Officials, he said, feared that if the evacuees had access to food and water, they would be slow to leave the city.
"Marsha Evans, the president of the national Red Cross, said that on Fox News," Hill said. "She was crystal clear about it."
The decision, Hill argued, was rooted in racism.
"If Bill Gates, 20 Microsoft executives and their children had been at the convention center, do you really think they would have been deprived of food and water for five days?" he asked.
Chaotic conditions
Mark Smith, a spokesman for the Louisiana Department of Homeland Security and Emergency Preparedness, said he was not aware Hill had been turned away.
"This is the first I've heard of it," he said.
Smith said officials were caught off-guard by the events at the convention center.
"It was never intended to be a shelter," he said. "There were no supplies there."
Evacuees went there, he said, because it was above water.
"As soon as we found out there were people there, we began evacuation procedures," Smith said. He admitted conditions there were chaotic.
"There was a lot of frustration out there," Smith said.
Troops stopped people with good intentions from entering the flooded areas early on, he said, because "it was so dangerous; if you let people in, you'd end up with another victim."
Still, Smith praised Hill and other rescuers for their actions.
"We applaud any help that one New Orleans resident gave another," he said. "Their response can be viewed as nothing less than heroic."
'Get out'
Russell Henderson teaches social policy and community organization at Dillard University, a historically black college in New Orleans.
He said he also was turned away at gunpoint while trying to get food and water to people who had gathered at a church that, like the convention center, was not a designated shelter.
"I was told to get out," said Henderson, who's now leading Rebuilding Louisiana, a coalition of front-line social service agencies.
Henderson said New Orleans residents who remained in their homes despite armed troops ordering them to leave were responsible for saving hundreds of lives.
"The people who stayed behind knew who lived where, who had stayed behind and who needed help," he said. "They were the ones who went out in boats and rescued people."
Often, the boats weren't theirs.
Hill said when a neighbor found his missing boat, it was three blocks away and had a spray-painted message that read: "Thank you. This boat saved 150 lives."
Black neighborhoods
Six months after Katrina, Hill said he was struck by the differences in how New Orleans' mostly black evacuees are perceived versus the mostly white evacuees in coastal communities along the Gulf Coast.
"You don't hear anyone question whether cities like Pass Christian (Miss.) should rebuild," he said. "But in New Orleans, we have city councilmen saying people shouldn't be allowed back if they don't have a job.
"And there's a big debate over whether to rebuild the black neighborhoods because they might flood again," Hill said, "when, fact is, if the Mississippi (River) levee ever breaks there won't be one square inch of New Orleans that won't be under 15 feet of water. It would be a tsunami.
"It's like it's open season on poor people," Hill said.
Hill is the son of Gay Hill, Lawrence.
Copyright 2018 The Lawrence Journal-World. All rights reserved. This material may not be published, broadcast, rewritten or redistributed. We strive to uphold our values for every story published.