Phoenix — No matter how good Jake Peavy or Roger Clemens pitch for the United States, their appearances in round one of the World Baseball Classic will be brief.
The rules insist on it.
"I think they're very important," said Peavy, the San Diego right-hander who will start the U.S. opener Tuesday against Mexico. "Obviously, you don't want to tax your body. You get in the heat of battle, and you're going to want to stay in there when you probably shouldn't."
This, after all, is supposed to be spring training, when pitchers are slowly, methodically working their way into regular-season shape.
Among the rules:
¢ No pitcher in round one can throw more than 65 pitches, unless it's to complete the at-bat where he reaches No. 65. The number rises to 80 in the second round and 95 in the semifinals and finals.
¢ If a pitcher throws more than 50 pitches, he must have the next four days off.
¢ If he throws more than 30, he must have one day off.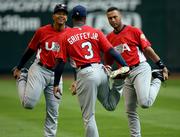 ¢ Relievers can pitch only two consecutive days without a day off.
"I don't think it's anything we wouldn't have done anyhow, to be honest with you," pitching coach Marcel Lachemann said.
The restrictions are a main reason the U.S. roster is so pitcher-heavy. Fourteen of the 30 players are pitchers, 10 of them relievers. Five had 31 or more saves apiece last season.
"It's the depth and the versatility it gives us," Lachemann said. "We've got basically 10 guys that can jump in there anywhere."
After two days of workouts, the U.S. team will face San Francisco in an exhibition game today at the Giants' spring-training facility in Scottsdale. The teams will play 10 innings to allow U.S. manager Buck Martinez to use most of his players.
Copyright 2018 The Associated Press. All rights reserved. This material may not be published, broadcast, rewritten or redistributed. We strive to uphold our values for every story published.