Basehor — An upcoming study of how to balance the needs of high-speed traffic with development pressures along the U.S. Highway 24-40 corridor in Leavenworth County could be completed by spring 2007.
The study will lead to recommendations on how to preserve high-speed travel on U.S. 24-40 without hindering development. The road is used by thousands of workers - including those from Lawrence - who commute to and from Kansas City.
Daryl Fields, a transportation planner with the Mid-America Regional Council, said the planned construction of a Kansas Turnpike interchange at Tonganoxie is expected to increase traffic on the road.
"That portion of Leavenworth County has seen growth in the last couple of years, and traffic flow has increased," he said. "It raises awareness in the region that it will become a corridor."
Under review will be the stretch of highway from Kansas Highway 7 west to the intersection of U.S. 24-40 and County Road 1, just south of Tonganoxie.
The regional council, Leavenworth County, the Kansas Department of Transportation and the cities of Basehor and Tonganoxie are partnering to pay for the study, which Fields said would cost between $200,000 and $250,000.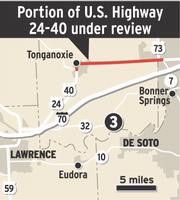 Ron Achepohl, assistant director of the regional council, said there wasn't a conflict between traffic and area development yet, but officials want to plan as commuter traffic continues to increase along the road.
"The county and KDOT are interested in preserving movement on that corridor, and are interested in addressing development in that corridor to keep traffic moving well," he said.
Representatives from each of those groups, except for Basehor, met Thursday in Leavenworth to review the project's scope and recommend changes. Minor tweaks are being made this week to the project's parameters, Fields said.
Requests for bids will be sent next month to consulting firms; they'll have 30 days to submit bids.
KDOT is slated to pay nearly two-thirds of the study costs. The regional council will contribute $20,000, and the remaining amount will be divided among Leavenworth County, Tonganoxie and Basehor.
County and city officials will be expected to make changes in zoning and subdivision regulations to comply with the study's recommendations.
Officials said the U.S. 24-40 study would include a "strong public involvement component" as well as feedback from local officials and the business community.
Copyright 2018 The Lawrence Journal-World. All rights reserved. This material may not be published, broadcast, rewritten or redistributed. We strive to uphold our values for every story published.