If you've watched more than an hour of TV since the year 2000, chances are you've seen Mo Rocca.
The geeky, bespectacled comedian and all-around media gadfly has appeared on no less than 11 network and cable TV channels, a fact that may lack spectacularity until you consider this: Rocca is a fake expert.
"I tell the truth. All the time," Rocca says in his unflappable air of intellectual authority.
A graduate of Harvard, Rocca is probably best known for being - what else? - a fake reporter on "The Daily Show with Jon Stewart" from 1998 to 2003. Since leaving the program, he has appeared on VH1's "I Love the ..." series and served as a panelist for NPR's "Wait Wait ... Don't Tell Me!"
Between judging haute cuisine on The Food Network's "The Iron Chef" and debating the pros and cons of Lingerie Barbie on Fox News' "The O'Reilly Factor," Rocca managed to land himself a new gig: doling out dating advice to college students.
Tonight at Kansas University, Rocca will give a lecture titled "Gamekillers 101" in which he'll outline for young coeds the pitfalls and perils of the dating world. Specifically, Rocca will define the 14 types of Gamekiller subspecies, different personalities that Rocca dryly says prevent "innocent young males" from "locking down some tail."
How did you get your job with Gamekillers?
I've been doing research for a long time on the mating game in the field and in my laboratory. I really spend a lot of time on my computer studying the mating game for hours on end into the night. And I became familiar with a syndrome that apparently has plagued mankind since, well, the beginning of time, probably. ... It is a syndrome whereby individuals known as gamekillers - that's what we call them in our academic circle - exist solely to come between young men and the women with whom they are trying to mate. I was pursuing these studies when Axe, the makers of an antiperspirant, a celebrated body spray and soft-core pornographic advertising on television, came to me with the offer of a generous grant. This grant enabled me to expand my study and hire some lab assistants.
Past Event
In Budig Hall
When: Saturday, March 4, 2006, 8 p.m. to 10 p.m.
Where: Kansas University, Kansas University, Lawrence
Cost: Free
-->
-->
Q: So you consider yourself an expert at this point in your research?
A: I think our findings hold up under scrutiny. There are other people that are pursuing these studies as well all over the world and with other species, but, using some fairly complicated math models and algorithms, our initial findings have been borne out. I don't know if it falls under the realm of "fact"; I mean, that's always a controversial thing in the scientific world.
Q: Do you use your expertise in your personal life as well?
A: Well, if the question is, "Do I ever get my game killed?," the answer really is no because I never stop talking, and so that makes it difficult to kill my game. As to whether I've ever been a gamekiller myself, I'm a hybrid probably of two. Among the 14 subspecies is one named "IQ." He's the next Google-guy, he's the guy who knows all the "Q" Scrabble words - he's impressive. I'm flattered to be compared to him. At other times, though, I can become quite angry, and I can become "Early Man," which is another one of the 14 subspecies. He is a primal beast. So if you think of, sort of, David Banner turning into the Hulk, that's essentially who I am.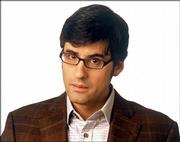 Q: This is your second visit to Lawrence. How do you like the town?
A: I'm a big fan of Lawrence, Kansas. Many people know that. I've worn a KU shirt on VH1. Lawrence was a center of abolitionism before other parts of Kansas were.
Q: It's true, but you also wore a K-State T-shirt ...
A: (Interrupting) Well, and let me be clear about that (sighs). Kansas has a history of violence. There are such things as cycles of history. What we don't want is Bleeding Kansas being resurrected, being revisited. And I think if I can be the peacemaker between K-State and KU, I'm happy to wear that hat. I will tell you, because I don't think people in Manhattan will be reading this, I look better in the KU shirt. It's a better color for me; it suits my skin tones more. I think the K-State shirt makes me look washed out. It's a garish purple. God bless the kids at K-State, but I don't think it was the right shirt for me. Now will I go on and wear a Wichita State University shirt? Perhaps. Perhaps it's the only thing to do at this point. The way I see it, KU and K-State have always been the Sunnis and Shiites of Kansas, which I suppose makes Wichita State the Kurds.
Q: How would you respond to a recent Newsweek article that cited a lot of success stories from "The Daily Show," then named you as one of the least successful?
A: I would say that, (laughing) the guy who wrote that, is, I don't think you can use the expression "a**wipe" in a family newspaper. I would say that Newsweek is an adorable little newspaper with a median age readership of 78. And thank God for increased life expectancy, because it will hold on for a few more years.
Copyright 2018 The Lawrence Journal-World. All rights reserved. This material may not be published, broadcast, rewritten or redistributed. We strive to uphold our values for every story published.