Surprise, Ariz. — The Kansas City Royals did not sign Paul Bako, a career .239 hitter with 14 home runs in eight major-league seasons, for his bat.
They signed Bako for his experience - experience they hope he'll pass on to 25-year-old John Buck, slotted as their No. 1 catcher this season.
"I didn't realize quite how long I have been in the big leagues to start gravitating toward that role," Bako said. "I'm proud, and I'm happy to get the opportunity to do that. John is a great kid, a hardworking player, a blue-collar type player, which is a pleasure to be around a young guy like that."
Any moment could be a teaching moment, Bako said.
"A lot of it comes from experience, meaning my former experience or something that happens during a ball game that we are both being a part of," he said. "A lot of it is going to happen during a game, working with a pitcher or seeing something in a hitter on another team. ... A lot of different things, but nothing you can really put a finger on one particular thing."
Fred Kendall, the Royals' bullpen coach, said Bako's experience - as much as his skills and knowledge - was a key to his role as a mentor.
"It is not so much teaching," Kendall said. "To get to this level, I think it is consistency."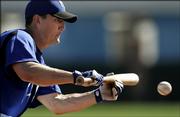 Bako has been used primarily as a backup since breaking into the majors in 1997 with Detroit. He also has played for Houston, Florida, Atlanta, the Chicago Cubs and the Los Angeles Dodgers but has never caught more than 96 games in a season. He only played in 13 games last year because of a knee injury which required surgery.
"Being a backup outfielder, infielder or catcher, we may not have all the talent and ability to play every day in the big leagues," Bako said. "But I definitely think it would be easier to do day in and day out, believe it or not - just knowing you're in the lineup everyday and just showing up at the ballpark knowing what you're doing, rather than being on the fence and not know for sure what is going on."
Not that Bako's complaining.
"I definitely would rather be backing up in the big leagues than doing anything else - other than starting in the big leagues," he said. "We'd all rather play more, but it is what it is. You don't have to like it or love your role, but you've got to appreciate the opportunity you have in the big leagues and try to maximize your opportunities to do good."
Copyright 2018 The Associated Press. All rights reserved. This material may not be published, broadcast, rewritten or redistributed. We strive to uphold our values for every story published.