Boston — After he banked in the game-winning three-pointer for the Boston Celtics on Friday night, Paul Pierce turned his hands upward to the heavens, seemingly surprising even himself. It was an homage to Michael Jordan's famous shoulder-shrug during Game 1 of the 1992 NBA Finals.
"I remember when Mike hit all those threes against Portland," Pierce said. "And I just wanted to do it."
While he didn't replicate Jordan's 35 points in the first half of Chicago's victory over Portland in '92, Pierce scored 12 of his 31 points in the fourth quarter to lift the Celtics to a 99-98 victory over the Indiana Pacers on Friday night.
Pierce's three-pointer with 39.2 seconds left in the game, and four seconds left on the shot clock, put the Celtics ahead for good, 99-96.
"I just didn't want to foul him," said Stephen Jackson, who scored 20 and was in Pierce's face on his three-pointer. "I wanted to make him make a tough shot. I thought I did my job - he just did his better."
Fred Jones made a layup to cut the lead to one point, but Jackson missed a jumper over Tony Allen's outstretched arm at the buzzer, giving the Celtics their sixth victory in nine tries after dropping six in a row.
It was the fourth game in a row that Pierce netted better than 30 points and the 10th time in 11 games he's topped the 30-point mark.
"The rim is looking bigger and bigger every game," Pierce said.
Jazz 105, Clippers 103
Salt Lake City - Rookie Deron Williams banked in a running jumper with 2.4 seconds left, lifting Utah over Los Angeles despite blowing a 13-point lead in the final period. The Jazz beat the Clippers for the 32nd time in the last 33 meetings in Utah.
Pistons 98, Sonics 96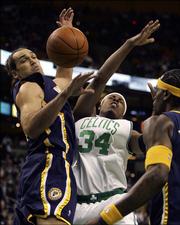 Seattle - Richard Hamilton made a fallaway baseline jumper with less than one second remaining for Detroit.
Suns 123, Magic 118
Phoenix - Shawn Marion's two alley-oop baskets in the final minute, both on setups from Steve Nash, rallied Phoenix to its ninth straight victory.
Bulls 108, Knicks 101
New York - Ben Gordon scored 32 in another huge game against New York, including a go-ahead three-pointer with 31 seconds left. Kirk Hinrich added 33 points for the Bulls.
Lakers 106, Warriors 94
Oakland, Calif. - Kobe Bryant became the youngest NBA player to score 16,000 points, finishing with 42 for Los Angeles. With a jumper late in the first quarter, the NBA's leading scorer this season scored his 16,000th career point at 27 years and 192 days old - four days earlier than Wilt Chamberlain, who reached the mark in 1964.
Rockets 89, Nuggets 78
Houston - Tracy McGrady scored 23, and Yao Ming added 21 as Houston beat Denver. Andre Miller's nifty reverse layup got Denver within 76-70 with about six minutes left.
Mavericks 90, Bobcats 76
Dallas - Dirk Nowitzki scored 26, and Jason Terry had 17 as Dallas rallied from a halftime deficit to extend its club-record home winning streak to 16 games.
76ers 119, Wizards 113
Philadelphia - Allen Iverson had 47 points and 12 assists, and Chris Webber added 30 points and 12 rebounds to lead Philadelphia. It's the first time Iverson has reached 40 points and 10 assists in consecutive games.
Kings 102, Hawks 93
Atlanta - Brad Miller scored 24 to lead five Kings in double figures in Sacramento's victory.
Copyright 2018 The Associated Press. All rights reserved. This material may not be published, broadcast, rewritten or redistributed. We strive to uphold our values for every story published.