Teresa Lady, a secretary in Indianapolis, has seen only one of this year's five best-picture Academy Award nominees - "Brokeback Mountain." Luckily, she has other reasons for tuning in to watch Sunday night's Oscarcast.
"I like looking at their clothes," said Lady, 54. "And the actors can get kind of crazy on there. I think it's interesting to see how they behave."
If trends hold, this year's Oscars could be one of the lowest-rated telecasts yet. Ratings are always highest when a blockbuster is in contention, such as "Titanic," the highest-grossing film of all time. But this year's slate contains no blockbusters, and most of the films deal with dark, difficult themes.
Last year, just more than 42 million people watched "Million Dollar Baby" win, about 1.4 million fewer than the year before, when the more popular "The Lord of the Rings: The Return of the King" swept the awards. By contrast, more than 55 million people watched "Titanic" win in 1998.
"I think there's a lot of anxiety on the part of the academy," said Kim Masters, an author and entertainment reporter for National Public Radio. "They fear that these movies are small, and people won't care."
And yet, it seems there always will be reasons that people watch the Oscars. It is, after all, the country's second-largest televised attraction, after the Super Bowl. And it IS the Super Bowl of show business.
"People mostly see it as a sporting event," said Tom O'Neil, who writes about the Oscars for the Web site theenvelope.com. "In a way, it doesn't matter if they've seen the movies. They watch it so they can win their office betting pools. They watch it to see stars make fool of themselves, or show their insecurities by gushing: 'You LIKE me!'"
That was Sally Field in 1983.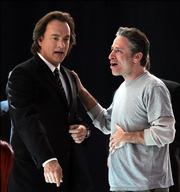 And then there is the deliciously perverse pleasure that comes from watching big stars on the edge of their seats, waiting to see whether they win or lose, and catching that flash of disappointment across a loser's face before he or she recovers for the cameras. (Remember Bill Murray's face in 2004 when he lost to Sean Penn?)
"It's the ultimate reality TV," O'Neil said.
This year "Brokeback Mountain," Ang Lee's saga of gay cowboys, has had such a cultural impact - the endless articles, the jokes, the spoofs - that even people who haven't seen the film probably will want to see what happens.
Another point of interest this year is the new host: Jon Stewart, star of the Emmy and Peabody award-winning "The Daily Show."
"If for no other reason, I'd watch it just for that," said Jennifer Bowman, 35, a lawyer from Portland, Ore.
And part of the fun always is finding a fashion faux pas. Everyone's looking for that crazy, over-the-top outfit that will provoke watercooler conversation on Monday. Who, for example, could forget the swan dress that Bjork wore to the 2001 Oscars? Or the Bob Mackie Mohawk headdress that Cher wore in 1986?
"People try to be hideous, and it's fun," said Michael Gaubatz, 50, of Jeffersonville, Ind.
Copyright 2018 The Associated Press. All rights reserved. This material may not be published, broadcast, rewritten or redistributed. We strive to uphold our values for every story published.