Kansas University's baseball squad overcame errors in the field and at the plate to win its home opener Friday over Western Illinois, 5-4, at Hoglund Ballpark.
The Jayhawks (11-4), who are now 4-0 in home openers under coach Ritch Price, completely controlled the game - that is, until the seventh inning.
Sean Land earned his fourth win of the season but made two errant throws in the seventh that led to three Leatherneck runs.
"I told Sean after the game that he's on cruise control, an absolute dominating performance, and if he doesn't make the two fielding errors himself, they don't score," Price said. "And as a result of that, he put them right back into the baseball game where they could have come from behind and won - and he's too good a player to make two plays as poorly as those two."
Matt Berner, who was in his third consecutive start at second base since Ryne Price suffered a broken bone in his wrist, had the third Jayhawk error.
"I thought (Berner) did a decent job," Ritch Price said. "He turned one really nice double play, and he almost made two other good plays where the guy just barely beats the ball to first. ... He's not spectacular at any phase of the game, but we just need him to play solid and keep us a-hummin' until we can get Ryne back in the lineup."
The Hoglund Ballpark crew has played only one game of error-free ball this season.
KU also struggled at the plate, stranding 12 runners on base. It twice left the bases loaded, including when, with no outs in the bottom of the third, the Jayhawks couldn't hit the ball out of the infield.
Photo Gallery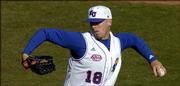 KU baseball home opener
"We're not getting very much production from our seven, eight and nine hole hitters in our lineup," Price said. "We have two freshmen and a sophomore playing at that spot, and (Saturday) we are going to play a freshman and a sophomore in those spots. The big thing for us is, we've got to stay positive with those guys and continue to give them opportunities so at some point they'll play up to their abilities.
"Because, right now, if we don't get better production than that, we're not going to compete in our conference."
Senior left fielder John Allman was 2-for-4 and extended his hitting streak to five games, but he stranded three runners, too.
"We had (Matt Baty) out and Ryne out, so we just took what we could get," Allman said.
Kyle Murphy had a season-high three stolen bases. After swiping his third in the sixth inning, he was balked to third base and again to home plate to score what proved to be the winning run.
"The opportunity was there. They really didn't key in on picking off as much as the teams we've played in the past have," Murphy said. "We were able to read the pitchers pretty good, so it was just one of those nights."
Don Czyz continued to increase his program record for career saves - now at 19 - by picking up his seventh of the season.
KU and Western Illinois will play again at 1 p.m. today at Hoglund. Ricky Fairchild (3-1, 5.40 earned-run average) is the penciled KU starter and will face WIU's Ryan Schmidgall (0-0, 0.00).
Copyright 2018 The Lawrence Journal-World. All rights reserved. This material may not be published, broadcast, rewritten or redistributed. We strive to uphold our values for every story published.