Hyderabad, India — Touching on one of the most politically heated aspects of the U.S. relationship with India, President Bush on Friday defended American corporations that outsource jobs overseas in pursuit of inexpensive labor.
Bush spoke on the final day of a state visit to India in which he declared that the two nations, estranged for much of the 20th century, are now "closer than ever before."
"People do lose jobs as a result of globalization, and it's painful for those who lose jobs," the president said during a roundtable discussion at the India School of Business, about 800 miles south of New Delhi. "But the fundamental question is, 'How does a government or society react to that?'
"And it's basically one of two ways. One is to say, losing jobs is painful, therefore, let's throw up protectionist walls. And the other is to say, losing jobs is painful, so let's make sure people are educated so they can find - fill the jobs of the 21st century."
Bush later flew amid tight security to Islamabad, Pakistan, where he was scheduled to meet today with President Pervez Musharaf. The precautions came in the wake of a bombing this week in Karachi, Pakistan, that killed a U.S. diplomat and violent anti-U.S. protests throughout the region.
Bush's trip was considered so dangerous that Air Force One, the blue-and-white 747 that has come to symbolize the might of the U.S. presidency, landed late Friday with window shades drawn and running lights off.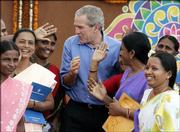 Once on the ground, the White House appeared to create a deliberate diversion by sending both a typical motorcade and two Blackhawk helicopters to the tarmac. It was not clear whether the president rode in a car or a chopper, but he arrived safely at the U.S. Embassy for the night.
Today's talks are expected to focus on Pakistan's role in rooting out Islamic militants and pro-Taliban forces and in pursuing democratic reforms.
Also looming over the talks is the major agreement on nuclear cooperation with India that Bush announced during his three-day trip there: a pact that would lift the U.S. ban on selling nuclear materials and technology to Pakistan's longtime rival.
Although administration officials have said they would not offer a similar deal to longtime ally Pakistan, officials in Islamabad, the capital, have said they would request one.
Congress must approve the pact with India, under which the Indian government agreed for the first time to make some of its nuclear reactors available for international inspection.
Copyright 2018 The Lawrence Journal-World. All rights reserved. This material may not be published, broadcast, rewritten or redistributed. We strive to uphold our values for every story published.