Baldwin — In Santa Fe Trail's first boys basketball game of the season, Jake Carter, in street clothes because of a bad ankle, saw his team suffer a 22-point loss to Baldwin.
In Class 4A sub-state action Friday, Carter, a 6-foot-9 senior, poured in a game-high 22 points and dominated the paint, leading the No. 4-seeded Chargers to a 62-50 victory over the top-seeded Bulldogs.
"Not getting to play in a 22-point loss definitely gave me some motivation," Carter said. "I wanted to come out and make sure that they knew that I was for real."
If the Bulldogs (14-7) didn't think Carter was for real before Friday, they do now. Carter towered over the Bulldog post players, and their 'Hack-a-Shaq' approach - like the planned fouling of bad free-thrower Shaquille O'Neal in the NBA - didn't work, because Carter was 8-for-12 from the line. He also had several key blocks in the second half when Baldwin tried to mount a comeback.
"He was the difference," Baldwin coach Heath Cooper said. "He's such a presence inside the lane. We like to attack the glass and penetrate offensively, but he really took us away from that. We had a hard time getting it inside against him."
With 4:31 to play and SFT seemingly in control, Carter's free throw put the Chargers ahead, 49-38. But Ryan Jorgensen hit a jumper, then Aaron Hannon stole a pass and promptly was intentionally fouled by Santa Fe Trail's Shawn Conklin. Hannon hit both free throws to cut the lead to seven with 3:35 to play.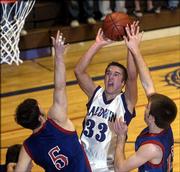 After Carter answered with a layup, Drew Berg hit a three-pointer to make it a five-point game at 51-46. After a SFT turnover, Jorgensen sent the home crowd into a frenzy when he hit a running layup and was fouled. After the charity, Baldwin trailed, 51-49, with 2:35 to play.
"The crowd was into it, we were into it ... we thought we were coming back," said Blake Wieden, who finished with a team high 17 points for Baldwin but scored only four in the second half.
Then, back-to-back layups by Carter and Curtis Musgrave put the Chargers up by six, forcing Baldwin to foul. SFT hit their free throws, outscoring Baldwin 11-1 in the final 2:35.
"I'm so proud of my players. It was a great season for us," Bulldog coach Cooper said. "It was our first winning season in five years. We were 3-9 in the league last year and 9-3 in the league this year. We beat two ranked teams and just played really well. Tonight, we just came up short."
Santa Fe Trail will play No. 3-seeded Spring Hill (13-8) in the sub-state championship at 7:30 tonight at Baldwin.
Copyright 2017 The Lawrence Journal-World. All rights reserved. This material may not be published, broadcast, rewritten or redistributed. We strive to uphold our values for every story published.