College Station, Texas — Texas A&M; knows it's not going to beat anyone in a high-scoring shootout.
Instead, the Aggies like to play tough defense, keep the score low and put themselves in position to win at the end.
That is exactly what they did Wednesday night in a 46-43 upset over No. 6 Texas.
Acie Law made a three-pointer at the buzzer with Daniel Gibson in his face to give Texas A&M; its sixth straight win.
"We take a lot of pride in our defense, and we think that that can carry us because we struggle at times offensively," Law said. "We did a good job of that tonight."
The Aggies got a chance for the victory when Texas' P.J. Tucker, apparently unaware of the time on the shot clock, dribbled around as it expired with 5.9 seconds left.
"It was just bad execution," Tucker said. "I let my teammates down. I didn't run the play right."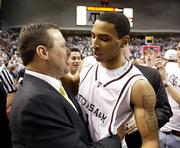 The Longhorns intentionally fouled Law, and, after a timeout, he got the inbounds pass and pulled up for a long three which swished as the buzzer sounded, sending a number of A&M; fans onto the court.
Law fell to the court after the shot, then jumped up and ran into the crowd to get a hug from his mother.
"Words can't describe the feeling when you beat a rival with so much at stake," he said. "The Big 12 championship for them and a chance to get into the tournament for us. The game had a lot of meaning for both teams."
It was the second straight year the Aggies beat the Longhorns at home. The Aggies improved their home record to 16-2 with a win that undoubtedly will bolster their NCAA Tournament hopes and at least puts off Texas' chance to capture its first Big 12 title since 1999.
The Longhorns are tied for first in the conference with Kansas University.
Baylor 77, Texas Tech 66
Waco, Texas - Aaron Bruce scored 28 points, 25 of them in the second half, to lead Baylor. Bruce hit all but one of his seven three-point attempts.
Texas Tech scored five straight points to open the second half and take a 34-29 lead. But the Bears responded with a 14-7 run. The Red Raiders never regained the lead.
Kansas St. 66, Nebraska 64
Lincoln, Neb. - Cartier Martin scored five points in the final 27 seconds to help Kansas State hold on.
Kansas State used an 8-0 run to take a 41-31 lead early in the second half.
Copyright 2018 The Associated Press. All rights reserved. This material may not be published, broadcast, rewritten or redistributed. We strive to uphold our values for every story published.