It's time to dust off the garden shears and wipe the cobwebs from the old shovel. The 2006 Lawn and Garden Show at the Douglas County 4-H Fairgrounds is a great way to start the new planting season with a spring in your step. You can find inspiration, answer nagging questions and simply enjoy the ambiance of the indoor floral sanctuary.
Local horticulture experts and businesses have rolled out the sod, planted trees and shrubs, and created magnificent water gardens for one weekend only.
"I always like to see the flowers and how the building is transformed," says Jozie Schimke, an event board member. "It just smells like spring."
What can a person expect to learn at this year's event? Among the topics to be discussed are native plants, transforming your garden into a personal space, learning about soil, hearing more about the uses of concrete in the garden and more.
"One of our main goals in 2006 is to show people how easy it is to create a small water feature for their own garden," Schimke says. "In the front display bed, we will have four differently themed gardens with an appropriate water feature in each. Deb Spencer, of Water's Edge, always gives a good seminar on water garden construction, and this year she is discussing these small installations."
Organizers of the annual event, hosted by the Douglas County Extension Office, always tries to keep their fingers on the pulse of what's hot and new in gardening, but they know people never tire of receiving more information about topics that never go out of style. Perennial and annual garden design is a staple at the gathering, although speakers rotate and ideas are rejuvenated.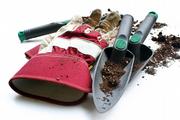 While you peruse the booths of area vendors, 4-H students will offer tacos, pies, sandwiches, fresh fruits and beverages for sale. And the building should be rocking with a rotations of bands, including Three Bean Salad, Sassy Mae and the Cornertones, Nickel Trio, Prairie Acre, Billy Spears & the Boys, Euphoria String Band and Steve Mason's Rhubarb Pie.
This year, for the first time, the Master Gardeners will have a booth designated to answer questions on any topic, from insect removal to plant diseases, amending the soil to creating a compost bin.
Schimke is excited about many of the planned exhibits.
"This year, one of the new exhibitors will show benches made of recycled tires," she says. "There will be sunrooms, metal rail fencing and a concrete finishing company that puts patterns and colors into concrete."
Kelly Kindscher, associate scientist at the Kansas Biological Survey, will lead a seminar on native plants. He has written two books - "Edible Wild Plants of the Prairie" and "Medicinal Wild Plants of the Prairie" - and is considered an expert on the subject, having walked across the prairie from Kansas City to the foothills of the Rockies in 1983. During that trek, he sampled the plants and learned how American Indians and early settlers utilized the flora around them.
If all of this is not incentive enough to get your garden started on the right foot, then keep in mind that proceeds from the event go toward providing scholarships for 4-H students in Douglas County who are studying horticulture. Monies also help 4-H students attending competitions and events to further their interest in plants and the land.
So get back to the garden this weekend, and jump start your enthusiasm for another stellar growing season.
Schedule
The 2006 Lawrence Lawn & Garden Show runs from 5 p.m. to 8 p.m. Friday, 9 a.m. to 8 p.m. Saturday and 9 a.m. to 4 p.m. Sunday at the Douglas County 4-H Fairgrounds, 21st and Harper. Admission is $5 for adults and $4 for seniors. Children 12 and under are free. Friday ¢ "Plant Investment 101: Planting Annuals & Perennials in Your Garden," by Alan Stevens, of K-State Research and Extension, 6:30 p.m.-7:30 p.m. Saturday ¢ "Thinking Outside the Box: Bringing Your Personality Into the Garden," by Emily Nolting, of K-State Research & Extension, 10 a.m.-10:45 a.m. ¢ "What's Soil Got to Do With it? Organic Products in the Garden," by Warren Johnson, of Back to Earth, 11 a.m.-11:45 a.m. ¢ "Now You See it, Now You Don't: Disappearing Fountains & Waterfalls," by Deb Spencer, of Water's Edge, noon-12:45 p.m. ¢ "Add Pizzazz to Your World with Sensational Flora," new and timeless favorites by area professionals, 1 p.m.-1:45 p.m. ¢ "Catch the Conifer Craze with Some Great Plants for Kansas," by Marie Willis, Douglas County Master Gardener, 2 p.m.-2:45 p.m. Sunday ¢ "Duke Out the Garden: How Native Plants Compete and Thrive," by Kelly Kindscher and Maggie Riggs, local plant experts, 1 p.m.-1:45 p.m. ¢ "Let It Rain: Go With the Flow and Start a Rain Garden," by Jason Dremsa, of Applied Ecological Services, 2 p.m.-2:45 p.m.
Copyright 2018 The Lawrence Journal-World. All rights reserved. This material may not be published, broadcast, rewritten or redistributed. We strive to uphold our values for every story published.