Spring has arrived early: True or false?
False, according to meteorologists. But enjoy it while you can.
On Tuesday, Lawrence set a record when the temperature reached 80 degrees by late afternoon. The previous record high for Feb. 28 was in 1932, when the temperature reached 78 degrees. Records also were set in Topeka and elsewhere in the region when the thermometer went into the 80s.
"It's beautiful, but you never know. In March, we could have a snowstorm here," Darrell Smith, meteorologist with the National Weather Service in Topeka, said Tuesday.
"We're still going to have some cool days," 6News meteorologist Matt Sayers predicted.
In other words, don't get fooled by Mother Nature.
That's already happened to some of Floyd Ott's apricot trees. Warmer-than-usual February days caused some of the trees to bloom at his orchard south of Eudora. When temperatures dipped into the single digits a couple weekends ago, those apricot blooms paid the price for their early spring fever.
Photo Gallery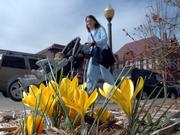 Spring fever strikes early
"Half the apricot buds were frozen. They were black," said Ott, whose 25-acre orchard has a variety of fruit trees. "They can't grow back in the spring. It will be next year."
Ott, 80, is worried some of his other fruit trees will suffer the same fate.
"I saw some leaves on apple trees. I didn't like that at all," he said.
Plants ready to grow
Landscape and plant nursery workers warn against setting out certain plants this time of year, even if the temperature is into the 70s.
"Anything that is greenhouse-grown, already started to grow or broadleaf evergreens, sometimes they haven't adapted yet," said Ryan Domnick, owner of Low Maintenance Landscape Inc. in Lawrence.
In recent days Domnick has seen signs of growth in catnip, tulips, daffodils and early spring perennials.
"They'll be fine," he said. "If the cold weather comes back, it will just stunt them a little bit."
Early warm weather is causing more people to think about their gardens and planting, said Doug Davidson, owner of Vinland Nursery.
"People are calling. They are starting to look for trees and shrubs," Davidson said.
Davidson and Domnick recalled that last year about this time a warm spell arrived that was followed by much colder weather.
"Last year it was pretty moderate for quite a while, and just when you thought we couldn't have another freeze we had a real hard one," Davidson said. "Mother Nature can still fool us."
Some wheat farmers might be worried about their crop inching out of the ground. But unless the wheat grows enough to expose its seeds, it will probably survive a freeze, said Bill Wood, agricultural extension agent for Douglas County.
The biggest concern for wheat farmers and residential gardeners is the dry weather. Farmers need rain to help nitrogen fertilizer soak into the ground, Wood said.
Then there is the problem of fire. The county is under a burn ban until further notice. In Lawrence, just a trace of moisture has fallen during February and only 0.84 inch for the year.
"I wish I would see more people out watering," Domnick said. "I'm worrying about some of these plants dying."
Animal instincts
Wild animals seem to have biological systems that help them adjust or ignore weather fluctuations, said Kenneth Armitage, a retired Kansas University biology professor.
Tree squirrels, for example, have two broods a year and begin their nesting regardless of weather, Armitage said. Good weather will mean less stress on them.
Many mammals, such as the groundhog, can come out of hibernation early if the weather warms up and return if it gets too cold, Armitage said.
Bird migration is unaffected by weather changes because birds are guided by daylight and length of days, he said.
"I think the reason many of these birds are controlled by day length is because of the vagaries of weather," Armitage said.
The forecast shows those vagaries will be evident this week. Temperatures are expected to again climb into the 70s today with a cooldown Thursday into the upper 50s.
Copyright 2018 The Lawrence Journal-World. All rights reserved. This material may not be published, broadcast, rewritten or redistributed. We strive to uphold our values for every story published.