The Futsal Rookie Dragons and Tigers met Saturday at the East Lawrence Center to duke it out. Both teams stepped up the energy and began to gel as teams, but despite the improvements, the Tigers fell to the Dragons, 9-2.
"They really are starting to play as a team," Tiger coach Robert Berryman said.
The Dragons started off with a bang when Dragon Siam Boyd put the first goal in the net despite the tight knit group of Tigers on defense. The Dragons continued to keep the pressure on the Tigers throughout the first half.
The Tigers were on the tips of their toes for most of the game, being forced to spend most of their time on defense. Tiger goalie Max Miles managed to stop the ball coming in the majority of the time, but it still managed to slip through the cracks.
Soon after the first shot, the Tigers tied up the game with one of their own. However, that would be the only scoring they managed for the rest of the first half. Miles hit the skies with an acrobatic diving save, only to have the Dragons poke in one more.
Dragon goalie Brandon Gardener did a great job on his own, acting as a stonewall to keep the ball from touching the net. The Tigers got the parents on their feet with their energy, however the Dragons finished out the first ahead 5-1.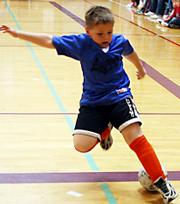 Looking to come back and take the win, the Tigers stepped up the energy in the second half, turning the tables and keeping the Dragons on defense. Tiger Parker King scored the first of the half, bringing the score up to 5-2.
Despite this surge, the Dragons managed to continue domination in the scoring department, finding the net. Boyd snuck in his fourth ball of the game, giving the Dragons a six-goal lead.
The second half wound down with neither team racking any points up after the Dragons landed their ninth of the game, securing the victory.
"They're passing like they've been taught for the past several years," Dragon coach Phil Foster said. "The forwards knew where they were supposed to be, waiting for the pass. The main thing is passing. That's what really won the game."
Copyright 2018 The Lawrence Journal-World. All rights reserved. This material may not be published, broadcast, rewritten or redistributed. We strive to uphold our values for every story published.