Sunflower Kids wrestler Reece Conklin led the charge at Liberty Nationals on Saturday, making Sunflower Kids Wrestling history by winning the championship in his weight class.
"After the first couple of rounds this morning, I thought I was going to be able to do well this weekend," Conklin said.
Liberty Nationals, which was held in Kansas City, Mo., in Municipal Auditorium, is one of the nation's premier wrestling events each year. Sunflower Kids Wrestling medaled a total of four wrestlers at Liberty Nationals, making the tournament their best national showing since the club's inception five years ago.
Hunter Haralson, Koty Russell and Josh Hanson all medaled in the top five in their respective weight classes.
Haralson, who was celebtrating his 11th birthday, said he was nervous and happy during the meet.
The highlight of the weekend for Sunflower came in the finals round, when Conklin pinned Woods of Virginia for the championship. Haralson, Russell and Hanson compiled an additional 17 wins collectively, and all three brought home fifth-place honors.
Conklin's win in the finals marked the first time in Sunflower Kids Wrestling history that it had a Liberty Nationals Champion.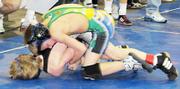 Another group of Sunflower wrestlers competed at the Oskaloosa Open on Sunday ,taking home some hardware. Brandon Brown took first place, Alan Clothier and Caleb Torneden took third place, and Lucas Ingraham placed fourth in the tournament.
Sunflower has a week off before they close out their season in their quest to have multiple state champions.
Conklin and his teammates can build off this past weekend's success as they head into state competition.
"I am going to try to do my best and hopefully that means I will do well," Conklin said.
Copyright 2018 The Lawrence Journal-World. All rights reserved. This material may not be published, broadcast, rewritten or redistributed. We strive to uphold our values for every story published.