Free State High girls basketball coach Bryan Duncan didn't have to worry about jogging his memory or digging out an old game film to prepare for tonight's Class 6A sub-state opener.
He simply had to ask his players to think back to all the good memories they created Friday night - and do it all over again.
After closing out the regular season with a victory over rival Lawrence High, the third-
seeded Firebirds now have an opportunity to hold their home court and end the Lions' state tournament dreams. The two squads will face off for the third and final time this season tonight at 7 p.m., with the rubber match deciding who stays in the running for a trip to Emporia next week.
"The fact that it's a sub-state game and a cross-town rival in your own gym, that's some great motivation," Duncan said. "Just coming off a win, you know you have the potential of winning the game. No one's going to take you by surprise regarding their ability."
Before last Friday, Free State (13-7) didn't know about its potential for beating LHS. The Lions won this season's first showdown, 47-39, back on Dec. 22 at LHS.
It was a much different story in the rematch, as the Firebirds rode the emotion of their home crowd and 21 turnovers in a commanding 50-31 victory.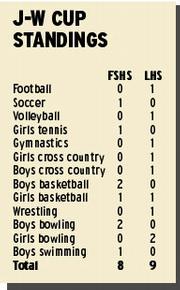 So it's no surprise that Duncan wants to tap into what went right the last time his squad set foot on its home floor.
"No matter who we were going to draw, we feel like we must defend, out-rebound them and get all the loose balls," Duncan said. "We like to think those are the things we can actually control."
Control is also a buzzword in the opposite camp. LHS coach Kristin Mallory knows if her sixth-seeded Lions (9-11) are going to spring the upset, they need to stand up to Free State's defensive intensity.
"I think you have to handle the pressure. You know it's coming," Mallory said. "We just made some poor decisions last time."
Part of the problem was the absence of guard Sydney Wilson, who at 5-foot-9 gives LHS a bigger ball-handling option to go with point guard Drew Huff in the backcourt.
Wilson is doubtful for tonight, which means someone will have to step up and supply offensive consistency alongside Huff and sophomore Danielle Bird.
"Our kids know we're capable of beating them," Mallory said. "We don't think it's one of those 6 vs. 3 games where you're just going to walk in and lose. It just comes town to who shows up and plays well."
Copyright 2018 The Lawrence Journal-World. All rights reserved. This material may not be published, broadcast, rewritten or redistributed. We strive to uphold our values for every story published.