Paris — One thing is sure about this year's Tour de France: For the first time since 1999, Lance Armstrong won't win it. Beyond that, all bets are off.
Now that his archrival has retired, could big German Jan Ullrich triumph again? Will Tour of Italy victor Ivan Basso be the new man to beat? Could American riders emerging from Armstrong's long shadow spoil European hopes for a homegrown winner? Or will feisty Kazakh rider Alexander Vinokourov become the first non-European or American to win the 103-year-old cycling showpiece?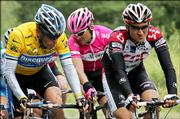 The three-week roadshow kicks off Saturday. Not since Armstrong roared back from cancer with the first of his record-shattering seven consecutive wins in 1999 has the Tour been so open and, as a consequence, potentially so exciting.
Some things never change: Doping again has haunted the run-up to the start in Strasbourg, in eastern France. Race organizers booted out a Spanish team whose deputy director was arrested in a doping probe in Spain. That decision cut the field from 22 to 21 teams, or 189 riders instead of the 198 originally planned.
Rather than risk another possible doping scandal in its ranks, the Swiss team Phonak left veterans Santiago Botero and Jose Enrique Gutierrez off its Tour roster because of reports linking them to the probe in Spain, where police seized banned drugs and frozen blood apparently readied for performance-enhancing transfusions.
Phonak was the former team of American Tyler Hamilton, the Olympic gold medalist serving a two-year suspension for blood doping, and of former road world champion Oscar Camenzind and Spain's Santi Perez, who both failed tests in 2004.
But back from doping disgrace is David Millar. After serving a two-year ban, it will be interesting to see whether the Scot who won three stages at previous Tours is as fast without the blood-boosting hormone EPO.
Copyright 2017 The Associated Press. All rights reserved. This material may not be published, broadcast, rewritten or redistributed. We strive to uphold our values for every story published.