San Diego — Pinch-hitter Antonio Perez drew a bases-loaded walk with two outs in the 14th inning, and the Oakland Athletics edged the San Diego Padres 6-5 Thursday to avoid a three-game sweep in a matchup of the top two teams out West.
After Oakland closer Huston Street squandered a two-run lead in the ninth, the A's rallied against Scott Cassidy (4-4) without getting a hit. They had three walks, including one intentional, a hit batsman and a sacrifice.
Perez, hitting .082, got ahead of Cassidy 3-0. The right-
hander threw two strikes, then missed outside to bring in Marco Scutaro, who drew a leadoff walk.
Ron Flores (1-1) held San Diego to one hit in four innings for the win.
Padres right fielder Brian Giles ended the top of the 11th by throwing out Mike Rouse, who tried to score the go-ahead run on Jason Kendall's single. Giles gloved the short hop and threw a one-bouncer to catcher Josh Bard, who went up the first-base line to field it, then dove and swipe-tagged Rouse.
Chad Gaudin pitched the 14th for his second save. With two runners on, Giles lined into a game-ending double play - Mike Cameron was doubled off second by second baseman Rouse.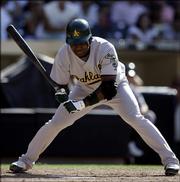 The Padres twice tied the game in the late innings.
Haren struck out seven and walked four.
Peavy threw 114 pitches in six innings, allowing three runs and seven hits, with eight strikeouts and two walks.
Pirates 7, White Sox 6
Pittsburgh - Freddy Sanchez homered leading off the ninth inning, and the Pirates ended a club-record 13-game losing streak.
The Pirates stopped their longest skid in the modern era (since 1900) and the second-longest in franchise history to a 23-game slide in 1890 - when the city's NL team was known as the Pittsburg Alleghenies.
They led 6-4 in the eighth before pinch-hitter Jim Thome tied it with his 25th homer, a two-run drive off Roberto Hernandez that bounced into the Allegheny River.
Giants 2, Rangers 1
San Francisco - Omar Vizquel's go-ahead single with two outs in the eighth inning sent San Francisco to a victory over Texas, completing a three-game sweep.
Jason Ellison hit a sacrifice fly to drive in the Giants' first run and scored on Vizquel's single off Francisco Cordero. Scott Feldman (0-2) allowed Ellison's leadoff walk.
Red Sox 4, Mets 2
Boston - Coco Crisp made a spectacular, diving catch in the eighth inning to preserve Curt Schilling's 10th win, and Boston stretched its winning streak to 12 games.
David Ortiz homered in the bottom of the eighth for Boston, sealing a sweep in a matchup of first-place teams.
Phillies 4, Orioles 0
Baltimore - Philadelphia ended its seven-game losing streak, using an outstanding pitching performance by Ryan Madson to defeat Baltimore.
Madson got within an out of his first complete game in the majors. The right-hander walked Brandon Fahey and gave up a single to Melvin Mora with two outs in the ninth before he was pulled. Tom Gordon earned his 21st save.
Blue Jays 8, Nationals 4
Toronto - Roy Halladay earned his 10th win and Toronto completed a three-game sweep of Washington.
Lyle Overbay homered, and Eric Hinske had three hits and three RBIs for the Blue Jays, who moved a season-high 10 games over .500.
Brewers 5, Cubs 4
Chicago - Spot starter Geremi Gonzalez worked five innings for the win, and the Brewers sent Chicago's Mark Prior to his third straight defeat.
Mariners 3, Diamondbacks 2
Phoenix - Raul Ibanez hit a disputed homer and Kenji Johjima tripled to set up the go-ahead run in Seattle's ninth-inning rally.
Yuniesky Betancourt's two-out single drove in pinch-
runner Willie Bloomquist to give the Mariners their fifth consecutive victory and 10th in 12 games.
Eddie Guardado (1-3) pitched a scoreless inning of relief to get the victory. J.J. Putz threw the ninth for his 14th save., a boy, Thursday.
Copyright 2018 The Associated Press. All rights reserved. This material may not be published, broadcast, rewritten or redistributed. We strive to uphold our values for every story published.