Berlin — It would have been a classic World Cup final: Germany vs. Argentina in Berlin's 72,000-seat Olympic Stadium, a showdown between two soccer powers with five titles between them.
Instead today's match is only a quarterfinal. But still special.
"In terms of potential, this could easily be a final," said Franz Beckenbauer, chief of the organizing committee, who twice faced Argentina in the World Cup as German coach. "It's a shame, but both of us are going to consider it a final."
The could be counterproductive if the game takes too much out of the winner. Then again, getting past such a strong opponent in the quarterfinals could provide tremendous momentum.
"We are looking forward to this game, it's a very special occasion," Germany coach Juergen Klinsmann said Thursday. "We are full of energy and enthusiasm, we are very confident, although we have great respect for Argentina. It's one of the best teams in the world.
"There is no trace of overconfidence in our team. We will go in with total aggression and total passion and we'll see how Argentina reacts," he said.
Germany is playing at home. In seeking its fourth title, Klinsmann promised his team will use all its "power and vehemence."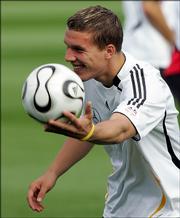 Captain Michael Ballack, fully recovered from a slightly swollen ankle, believes Germany has a 60-percent chance to win the match.
"With the performances we've shown here, we don't need to hide from anyone," Ballack said. "If we produce our best, we have a realistic chance of winning. We are very hungry to play three more games."
Argentina had the look of a champion early on, but was pushed to the limit in the second round by Mexico. The two-time champions needed an extra-time stroke of genius by Maxi Rodriguez to advance.
"The game will be very hard-fought and close," Argentina's 22-year-old striker Carlos Tevez said. "It's going to be very tough for us - and for them."
There is plenty of World Cup history between Germany and Argentina, apart from contrasts in style.
A few things to ponder:
l Germany and Argentina have met twice in World Cup championship games, each winning once: Argentina 3-2 in the 1986 final and West Germany 1-0 in 1990. This will be their fifth game in all World Cup play, and Germany has won two, draw one and lost one.
l Argentina coach Jose Pekerman and Klinsmann, both widely criticized, have proven the skeptics wrong. Both have gone with relatively young teams.
l It will be Germany's size against the relatively small and much quicker South Americans.
l Both teams feed off two topflight midfielders, Argentina's Juan Roman Riquelme and Germany's Ballack.
Germany and Argentina have played attacking soccer throughout the tournament, so there should be goals. They've both scored 10, although six of Argentina's came in a 6-0 landslide over Serbia.
Argentina is likely to keep the ball on the ground and try to beat Germany's bigger defenders that way. Germany will go after Argentina's small defense, which doesn't have a player over 6-foot.
"I've been playing against players who are always bigger than me for a long time, so I'm used to it," said striker Javier Saviola, who is 5-7. Fellow strikers Tevez and Lionel Messi are in the same height range.
"We have to the keep the ball on the ground, be quick and play as we did against Serbia," Saviola added. "If we play well, if we impose our game, we are difficult to beat."
Argentina's only tall potential starter up front is Hernan Crespo, who is 6-1. The Germans will start with two towering defenders in Per Mertesacker and Christoph Metzelder. Mertesacker is 6-5 and Metzelder is 6-3.
Copyright 2018 The Associated Press. All rights reserved. This material may not be published, broadcast, rewritten or redistributed. We strive to uphold our values for every story published.