A 1997 hazing incident threw one of Kansas University's oldest fraternities into a tailspin.
Nearly a decade later, Pi Kappa Alpha still is working on a comeback.
Last weekend, during rush, the newest members dressed in shirts and ties and presented themselves as the gentlemen of a revived fraternity.
"It's hard," Pi Kappa Alpha President Will Bohne said of efforts to rebuild, using an apartment complex instead of a frat house as home base. "On the KU campus, it's hard to succeed without a house."
The Pikes' headquarters were among the stops for future KU fraternity brothers in the weekend's formal recruitment.
More than 80 men participated in the four-day tour of each of KU's 19 fraternity chapters.
At KU, many men are recruited informally while in high school. KU five years ago started the men's formal recruitment for guys unable to make it to campus during the year.
Photo Gallery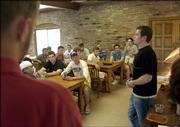 Fraternities
Four pillars
Greek houses have different things to offer.
"Although we're all unique and individual in our own special ways when it comes to ritual and chapter-specific things, we all share in common the four pillars of greek life, which are scholarship, leadership, brotherhood/sisterhood and service," said Ray Wittlinger of the Interfraternity Council.
Prospective member Brett Rich of St. Louis said he had simple goals.
"I'm looking for a relaxed place to chill out, have a good time, meet some new people," he said.
Greek membership at KU has remained steady in recent years, in the 3,200- to 3,500-student range.
Thomas Graves of Phi Kappa Tau said many at KU supported greeks, despite the occasional problems.
Phi Kappa Theta was kicked off campus in March 2005 after police seized several beer kegs in the house. Sigma Nu last fall closed following a hazing investigation.
"There's been some things that have been rough for the greek community," Graves said. "(KU officials) have been trying to work with us."
The potential recruits went door-to-door.
At Phi Delta Theta, 1621 Edgehill Road, they met with Polo-shirt-clad men in a room filled with trophies and books. They toured study rooms and learned how the fraternity does community service.
At Phi Kappa Tau, 1100 Ind., they listened to a local band and hung out on the front porch.
"They go to every house, they hear the same thing over and over," Graves said. "We decided to get a band, let them come out, have fun - just make it different."
At each house, the pitch was similar - the fraternity's history and a tour. They talked about grades, intramurals and community service. And many maintained they don't haze.
"Even though it's illegal to do it and the Interfraternity Council discourages doing it, it goes on anyway - in little ways, in big ways," said Matt Gurbacki, president of Alpha Tau Omega. "Some people get caught for it. Most people don't."
Growing numbers
Fraternities without houses, like Alpha Tau Omega, also took part in recruitment.
ATO, which owns the house at 1537 Tenn., lost its charter. The group now counts fewer than 20 members and needs to up its numbers before reclaiming its house.
"We're starting from zero, so it takes some time," Gurbacki said.
Rebuilding is something Bohne of Pi Kappa Alpha knows well. The 1997 hazing incident allegedly left one pledge in the hospital.
"It just raised all sorts of heck," he said.
The national fraternity reviewed the membership and booted out many members, Bohne said. The house, once on Stewart Avenue, was sold and razed to make way for apartments.
Now the fraternity has 22 active members. And having an "Animal House" image isn't a problem, Bohne said. The problem is getting noticed at all.
"If you ask a lot of fraternities what Pi Kappa Alpha is, they have no idea," Bohne said. "We're starting out with a completely clean slate. Our reputation is what we make it."
Copyright 2018 The Lawrence Journal-World. All rights reserved. This material may not be published, broadcast, rewritten or redistributed. We strive to uphold our values for every story published.