Trenton, N.J. — Muddy, coffee-colored floodwaters poured into homes, basements and stores on both sides of the Delaware River and rose as high as the street signs Thursday in some of the worst flooding to hit the Northeast in decades. At least 16 deaths were blamed on the deluge.
The city of Wilkes-Barre in northeastern Pennsylvania was spared when the newly raised levees held back the raging Susquehanna River, and officials lifted an evacuation order covering 200,000 people. But other communities drenched by days of record-breaking rain were not as lucky.
Along the swollen Delaware River, thousands of people were driven from their homes, and officials closed 10 bridges connecting New Jersey and Pennsylvania because of high water.
The supply of drinking water was dwindling in Trenton, a day after the Delaware River forced the city's water purification plant to shut down, and Gov. Jon S. Corzine declared a statewide emergency.
New Jersey State Police Supt. Rick Fuentes warned people not to return home. "The sun is shining but the waters are still high. The Delaware is raging," Fuentes said. "It will get better, but it will not get better today."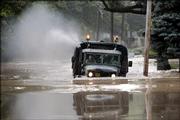 There were no immediate damage estimates. But New Jersey Gov. Jon Corzine said the flood looked a lot like one in April 2005 that caused $30 million in damage.
More heavy rain and thunderstorms were possible in Pennsylvania and New Jersey late Thursday, but today was expected to be dry in most of the region.
In Maryland, a new round of evacuations was ordered in Cecil County as the rising Susquehanna threatened about 300 homes. About 2,200 residents downstream from a dam in Rockville were asked to stay away from their homes for fear the dam would break. Later in the day, people were allowed back in their homes. Needwood Lake had been 25 feet above normal Tuesday night.
At least 16 deaths in Pennsylvania, Maryland, Virginia and New York were blamed on the storms and the flooding. In New York's Sullivan County, searchers found the body of a 15-year-old girl whose house collapsed as she stood on the porch waiting to be rescued.
Searchers also found the bodies of two Maryland boys, ages 14 and 16, who were swept away earlier this week after they went to look at a rain-swollen waterway.
Meanwhile, tens of thousands of people in and around Wilkes-Barre began returning home. Officials said at least 50,000 people obeyed Thursday's evacuation order, some of them because of Hurricane Katrina's example, or the trauma inflicted in 1972, when the remnants of Hurricane Agnes caused 50 deaths and more than $2 billion in damage in Pennsylvania.
Copyright 2018 The Associated Press. All rights reserved. This material may not be published, broadcast, rewritten or redistributed. We strive to uphold our values for every story published.