Cincinatti — Adam Dunn wanted to see a few pitches from Jimmy Gobble. He jumped all over the fourth one.
Dunn took the first two pitches from the reliever for strikes and fouled off the third before lacing a line drive RBI double in the eighth inning that gave the Cincinnati Reds a 6-5 victory over the Kansas City Royals on Thursday night.
Ken Griffey Jr. homered for the fourth straight game and Felipe Lopez also hit a home run as the Reds weathered Kansas City's eighth-inning comeback from a three-run deficit to win consecutive games for the first time since June 8.
Pinch-hitter Javier Valentin singled off Elmer Dessens (4-7) with two outs in the eighth for the Reds. Ryan Freel ran for Valentin and stole second. Dessens walked Felipe Lopez and was replaced by the left-handed Gobble who gave up the hit that went over the head of right fielder Reggie Sanders.
"I probably shouldn't say this, and I'll probably get yelled at, but I've never faced that guy before and I wanted to see a pitch from him," said Dunn, who also hit his team-leading 25th homer. "It was a slider, right there. When I hit it, I thought it was right at him, but it must have had backspin or knuckled or something, and luckily, it went right over him. When they're close, Reggie usually gets those."
Sanders said the ball tailed on him.
"By the time I got into position, it was past me," he said.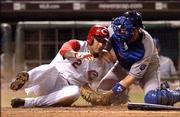 David Weathers (3-2), who got two outs in the eighth, was the winner and Todd Coffey pitched the ninth for his seventh save in eight tries.
Cincinnati's last consecutive wins were at St. Louis on June 7, and at home over the Chicago Cubs on June 8. The Reds hadn't won back-to-back games on the same homestand since beating Milwaukee on May 22-23.
Kansas City's comeback cost Bronson Arroyo his 10th win of the season. Arroyo allowed two runs and five hits with five strikeouts. He matched his season high by giving up three walks.
"Sure, it irritates you, but that's not saying the guys in the bullpen aren't doing the best they can," Arroyo said of the blown save, adding he would have tried to pitch the eighth if the lead had been fewer than three runs. "If it was a one-run lead, I would've gone back out there, but the bullpen has been throwing better of late, and I thought three runs was a big enough lead."
"I think we all feel sick about Bronson not getting the win there," Reds manager Jerry Narron said. "I would love to have kept him in nine innings and started him again (Friday) night."
Royals starter Bobby Keppel is still looking for his first major league win after allowing five hits, including the three homers, and four runs with one walk and two strikeouts in 2 1/3 innings.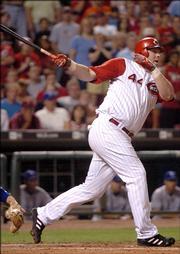 Doug Mientkiewicz gave Kansas City a 1-0 lead in the first inning with his third homer. Griffey responded in the bottom of the inning with a two-run shot, his 16th of the season and 552nd of his career. Griffey is one game short of tying the club record for consecutive games with a home run, which was set by Ted Kluszewski in 1954 and tied by Johnny Bench in 1972 and Griffey in 2003.
Griffey shares the major league record for consecutive games with at least one home run with eight, in 1993.
The Reds took a 4-1 lead on back-to-back homers by Lopez and Dunn to lead off the third. Lopez's homer was his ninth of the season and second in two nights. Dunn leads the Reds and is tied with Milwaukee's Carlos Lee for third in the major leagues with 25 home runs.
The Royals batted around in the eighth while scoring three runs against Reds relievers Chris Hammond and Weathers to tie the score. Mark Grudzielanek and Tony Graffanino each had a run-scoring single and Paul Bako tied the score with a sacrifice fly.
Notes: 2B Brandon Phillips became the first Reds player since Gary Redus in 1984 to be successful on his first 15 stolen base attempts of a season. The last Red with more was Ken Griffey, who opened the 1980 season 19-for-19. ... Keppel is the 353rd pitcher to give up a home run to Griffey Jr. ... With one day left in the month, the Reds have set a club record for home runs in June with 44. The previous record was 43, set in 1957 and tied last season.
Copyright 2018 The Associated Press. All rights reserved. This material may not be published, broadcast, rewritten or redistributed. We strive to uphold our values for every story published.