Wimbeldon, England — Tennis players no longer get to rest after the first game of a set, yet there was Andre Agassi at Wimbledon on Thursday, sitting in his chair and sipping his drink until the chair umpire leaned over to tell him to move along.
Hey, give an old guy a break, would ya? Facing another backward-cap-wearing, twentysomething opponent on the hottest day of the tournament, the 36-year-old Agassi eliminated Andreas Seppi of Italy, 6-4, 7-6 (2), 6-4, to reach the third round.
Agassi's back was feeling better and his game was looking better than in his opening match, both of which are important given the next task at his last Wimbledon: an old guard vs. new guard showdown against French Open champion Rafael Nadal.
"It's been too long, as far as I'm concerned, since I've felt good and was in a place where I could at least enjoy what's going on out there," said Agassi, the oldest man to reach Wimbledon's third round since Jimmy Connors was 38 in 1991.
"That's been my goal - to find my game so I can at least bring it. Today I was a lot closer to that. So I do have high hopes for my next match."
The No. 2-ranked Nadal lost the first two sets and twice was two points from defeat Thursday against Robert Kendrick, an American qualifier. But Nadal gutted out a 6-7 (4), 3-6, 7-6 (2), 7-5, 6-4 victory.
"Very tough," Nadal said. "He was serving unbelievable."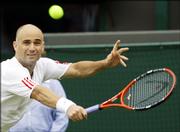 Kendrick pounded 28 aces and played old-fashioned serve-and-volley tennis. When he dove for a volley winner to send the third set into a tiebreaker, what seemed highly unlikely before the match suddenly seemed possible: Nadal, 4-0 against No. 1 Roger Federer this year, might lose to someone ranked 237th and not even listed in the ATP Tour guide.
But Kendrick's botched backhand volley at 1-1 in the tiebreaker gave Nadal an opening.
"I knew he wasn't going to give up," said Kendrick, who had right wrist surgery last year. "He's just got so much fight in him."
Now Nadal will face a very different type of game Saturday when he plays Agassi, who loves to dictate points from the baseline.
"It's a nice match for everybody, no?" said Nadal, 1-0 against Agassi. "It's his last Wimbledon. I hope I'm going to have more."
In the first two sets against the 68th-ranked Seppi, Agassi won 12 of 19 points that lasted at least 10 strokes. He saved seven of eight break points he faced overall. And he repeatedly tracked down Seppi's drop shots, moving well.
"Today was a great sign for me," said Agassi, who played only eight matches in 2006 because of ankle and back injuries before coming to Wimbledon.
The victory was Agassi's 222nd in Grand Slam play, tying him with Ivan Lendl for second in the Open era behind Connors' 233. When it ended, Agassi stopped to sign autographs for some of the spectators who've been treating him to raucous standing ovations before and after he plays.
He announced last weekend he'll quit after the U.S. Open, and the mutual adoration between Agassi and the fans has been tangible. Several have given unsolicited advice when they're close enough to offer it.
"'Don't retire' has been the common one," Agassi said. "I keep telling them, 'Talk to my family about that. Talk to my body about that.'"
But he didn't appear bothered as the temperature rose into the 70s for the first time this week; a line judge working the Nadal-Kendrick match fainted and was taken off Centre Court in a wheelchair.
Nadal, as always, betrayed not a shred of fatigue as they played more than 31â2 hours, sprinting to his chair at changeovers and pumping a fist after nearly every point he won, including when Kendrick double-faulted to get broken to 6-5 in the fourth set and 3-2 in the fifth. After a passing winner put him up 5-1 in the third-set tiebreaker, Nadal dropped to his knees - like Bjorn Borg used to when he'd win the championship.
The Spaniard, who turned 20 this month, has won a record 60 consecutive matches on clay, including the past two titles at Roland Garros. But he repeated Thursday that he's making a concerted effort to succeed at the All England Club, where the grass makes his shots less tricky for opponents to handle and gives him less time to scramble around the court retrieving shots.
"Grass would probably be Andre's best surface to play him on these days," said No. 3 Andy Roddick, who beat Florian Mayer in straight sets. "I'm as excited as anybody. That's going to be a great one."
When Nadal served trailing 5-4 in the fourth set, Kendrick was two points away from winning at 30-all - when Nadal hit an overhead winner - and at deuce - when Nadal hit a forehand that Kendrick thought might have been out.
"Nadal finds a way to win," said Nick Bollettieri, who's coached all sorts of tennis stars, including Agassi when he won Wimbledon in 1992. "He wears you down. He never gives up."
Three-time Wimbledon champion Venus Williams found a way to win even though she was in the same predicament as Nadal: two points from a stunning exit.
Williams lost the first set and was down 5-2 in the second against Lisa Raymond. When Raymond served for the match at 5-3, she got to 30-15 - and that was about it. Suddenly hitting nothing but winners, Williams won 34 of the next 39 points, including 18 in a row, to prevail 6-7 (4), 7-5, 6-2.
"I felt that it would be such a shame to leave in the second round," said Williams, who compiled a 49-13 edge in winners. "There's really no time to get frustrated or upset. You just need to play your way out of it."
Hmmm. Good advice for Marat Safin.
The two-time major champion also was involved in a big comeback, but in the wrong direction, wasting a two-set lead amid a lot of muttering and cursing on his way to a 4-6, 6-7 (4), 6-4, 6-4, 6-4 loss to No. 10 Fernando Gonzalez.
Safin engaged in lengthy discussions about line calls with chair umpire Pascal Maria, who at one point responded, "Don't take it personally." Safin's retort: "I am."
Copyright 2018 The Associated Press. All rights reserved. This material may not be published, broadcast, rewritten or redistributed. We strive to uphold our values for every story published.