Lawrence gardener Carla Rasch has a petite space in which to create her outdoor sanctuary - and she's not alone.
The average size of the American yard is shrinking. It now stands at only 9,100 square feet, including the house. Having a small garden, however, has not deterred Rasch from thinking big. Her garden is a textbook example of how best to utilize an intimate space by using unique and interesting plants, curving walkways, a small water feature, splashes of color and a strong dose of imagination.
You don't need to have a big garden to create eye-popping impact.
Rasch, registrar at Washburn University, has nestled into her smaller garden and home, which reside among giants on her Old West Lawrence block. She explains that her home had a different purpose when it was constructed.
"My home was the summer house for the larger three-story house next door (which burned and was built back to two stories because of the expense)," she says. "It had no fireplace or kitchen because it was a summer retreat. When people traveled in the 1800s, they visited for a long period since traveling may have taken weeks to get to their destination.
"The guests ate in the large house and rested and slept overnight in this summer 'cottage.' Rooms have been added over time, but there is still no fireplace."
Rasch is in her yard constantly - mowing in meticulous, criss-crossing lines, moving a plant or building adornments on her fence. She loves her space.
"My mother was a great gardener. Everything she touched grew beautifully," Rasch recalls. "At one time, even though she didn't have a degree, she worked as a horticulture therapist at The Menninger Foundation in Topeka. My mother died 20 years ago, so I really didn't take much interest when she was alive, but I am sure that I inherited her love of gardening.
"She even installed a small water pond decades before it was fashionable."
Confronting challenges
A few obstacles crop up when working at such a controlled size, and it might just be a matter of looking at your space in a new way.
For instance, think up - and look up. Make good use of vertical space with options like trellises, raised beds and adorned fences. If there's an interesting view in the distance or in a neighbor's yard, take advantage of that "borrowed" view. Not only will you get to savor the ambiance, but it will draw the eye into the distance, creating the illusion of more space.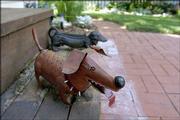 Rasch has her own demons to deal with in the garden.
"What is challenging about gardening in a small space is determining what plants coordinate based on size, color, texture, depth, blooming time, sun requirements and so on," she says. "Many gardener's plant areas en masse, but that does not work in a small space. One has to decide which, if any, plants are repeated and which can stand as a single plant.
"I try to find unique plants that add drama to the garden since space is limited."
Creating illusions
Although every garden has challenges, there are many tricks of the eye that can make a small space appear larger. Mirrors can make a tiny area feel much more expansive.
Try playing with perspective, like creating an outdoor path that gets narrower further away from the house, or use progressively smaller plants toward the far edges of the garden. It's entirely possible to grow illusions that make your outdoor haven appear larger than its actual physical boundaries.
Another trick: Create outdoor rooms. It's best not to be able to see the entire garden from any one perspective, so having hidden areas and obscured views gives viewers a sense of wonderment, musing about what lurks behind a trellised wall or a tall shrub.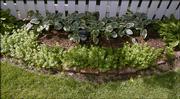 A meandering path also creates the illusion of more room, keeping the space more relaxed than a straight line might. Placing colorful flowers along the walkway creates areas to pause and inspect nature. Bright colors also will slow the eyes' journey, giving a path the affect of being much longer.
Choosing plants, colors
"I love listening to the water feature and watching the birds and squirrels drink from the fountain," Rasch says. "I love the unusual plants - the 9-feet-tall lilies, the dwarf pine tree, the zebra-striped iris and the calla lilies that are supposed to be taken in for the winter but come up every year even though I leave them out."
Having plants that pack a punch is an essential ingredient to small-space gardening. The flora should range from bold with distinctive foliage to petite with delicate flowers. It's crucial that the vegetative choices play well off of one another; after all there is less space to experiment.
A misconception with smaller gardens is that they need small plants. On the contrary, a small outdoor plot begs for flora that nails the impact factor. So plant huge rheum, with its colossal leaves, a banana tree or, in Rasch's case, a 9-foot-tall Asiatic trumpet lily.
As for hues, cool colors recede and warm colors advance, so use that to your advantage in a petite garden. For instance, if you wanted to push back a garage wall, it would be best painted in a cool tone. But try not to go overboard with too many colors in a confined space. Limit yourself to two or three, along with the green from your plants, of course.
'A living painting'
Small gardens have their benefits, Rasch says.
"Obviously, there is less expense. One doesn't need to buy many plants year after year if you buy perennials," she says. "It doesn't take as long to weed, and once it is established, it is easy to maintain.
"But most of all, the reward is the creative process. I really look at the small space as a canvas, and I am creating a living painting. I move plants to create greater depth, complimenting textures, colors and so on. I often sit and look at the picture to determine if a change would add greater impact or create a different mood."
Rasch's outdoor canvas is a welcoming surprise for visitors. She effortlessly has weaved her plant selections together to create an awe factor and has made this tiny garden work to her advantage.
Her small space would only be limited by her imagination, and it's obvious that Rasch has no shortage of that.
Multiseasonal plants fit for small gardens
Because space is limited in a small garden, these beauties put on more than one show in more than one season:
Perennials ¢ Amsonia: blue flowers in the spring, bright yellow fall foliage ¢ Bergenia: pink flowers in the spring, purple-tinted foliage in the winter ¢ Blackberry lily: burgundy-spotted yellow or orange flowers followed by shiny black seeds ¢ Maiden grass: arching stems of flowers with a purple tint in the fall, followed by great texture for the winter
Shrubs ¢ Winterberry: white flowers in the spring, bright red berries in the fall ¢ Burning bush: brilliant red fall foliage with corky, winged bark for winter ¢ Mohawk viburnum: white spring flowers, red and black fall berries with orange and red fall foliage ¢ Oakleaf hydrangea: bronze-purple fall foliage with peeling orange brown bark, white blooms in the summer
Copyright 2018 The Lawrence Journal-World. All rights reserved. This material may not be published, broadcast, rewritten or redistributed. We strive to uphold our values for every story published.