Frankfurt, Germany — What did we learn from the World Cup's round of 16? Ronaldo is still Ronaldo, Spain is still Spain and flopping after contact wins games.
That being said, the quarterfinals begin Friday with the usual suspects making up most of the field. Before the World Cup, I (like about 1 billion other observers) correctly predicted Brazil, France, Argentina and England still would be alive.
Six of the remaining teams eight teams have won a World Cup, which means there are no more easy picks - though I'm not exactly sweating over my Italy-Ukraine prediction.
Here is a look at the four matchups and predictions for each game.
Germany vs. Argentina
When: 10 a.m. Friday.
Quick look: Both teams are tied with Brazil for most goals in this tournament and will meet for the third time in six World Cups. Germany's Miroslav Klose and Lukas Podolski have seven goals combined, while Argentina's Hernan Crespo and Maxi Rodriguez have six. Germany's all-or-nothing style could make this a shootout between the offenses.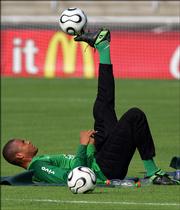 Quote: "Argentina was the favorite to win the World Cup but now (it has) had the bad luck to be drawn against us." - Klose.
Prediction: Argentina, 2-1. An explosive attack and the home crowd guided Germany into the quarterfinals, but Klose and Co. will be caught off guard by their first real competition and Argentina's equally dangerous forwards.
Italy vs. Ukraine
When: 2 p.m. Friday.
Quick look: Italy's Gianluigi Buffon has yet to give up a goal to his opponents in four games and should be the front-runner for the best goalkeeper award. Ukraine's confidence is up after eliminating Switzerland in a penalty shootout, but that may not be the case for Andriy Shevchenko, who hit the bar in the first half and missed his penalty kick.
Quote:"We want to put on a show (against Italy)." - Shevchenko.
Prediction: Italy, 2-0. Ukraine's attack did little to threaten Switzerland's defense and will do even less with Andriy Voronin out (thigh) against a strong Italian back line.
England vs. Portugal
When: 10 a.m. Saturday.
Quick look: Never mind the cheap shots and theatrics, Portugal, behind veteran Luis Figo and coach Luiz Scolari, is looking like a legitimate contender with victories over Mexico and the Netherlands. England barely survived its round-of-16 match with one Ecuador shot hitting the bar and Ashley Cole deflecting another at the last second.
Quote: "I see faults in (Paul) Robinson that we can exploit ... the England keeper is not one of their better players." - Portugal forward Pauleta.
Prediction: England, 1-0. With Deco out (2 yellow cards) and Cristiano Ronaldo questionable (thigh), Portugal loses its creativity advantage and thus will see England squeak by . . . as usual.
Brazil vs. France
When: 2 p.m. Saturday.
Quick look: FIFA player of the year Ronaldinho and Brazil haven't lived up to high expectations, but Ronaldo's return to form and Dida's 15 saves continued Brazil's 11-game unbeaten streak in the World Cup. The last team to beat Brazil was France in the 1998 final. If Zinedine Zidane has anything left after his nostalgic performance against Spain, Les Bleus once again could stun the favorites.
Quote: "France vs. Brazil - that's a nice memory." - Zidane.
Prediction: Brazil, 2-1. Brazil's depth and youth will help it tire out the older French side with Ronaldo again showing his regained knack for scoring goals.
Copyright 2018 The Lawrence Journal-World. All rights reserved. This material may not be published, broadcast, rewritten or redistributed. We strive to uphold our values for every story published.