The Kaw Valley Soccer Association put on a developmental camp last week that was open to all ages. They had 30 participants, ranging from 4- to 12-years-old.
The focus of the camp, led by coaches Gunar Harmon and Gretchen Yencic, was to develop individual skills, especially since the kids were so young.
"Throughout the week, we want to increase the number of touches on the ball," Harmon said. "Giving them an overload of touches will help develop their skills."
The mid-morning camp, called Camp America, started on Monday with kids receiving lessons on simple, technical skills. They then took those skills and implemented them in a game situation.
As the week progressed, the emphasis shifted to strengthing individual skills such as passing and ball control.
Campers took Thursday off to watch Team USA's game against Ghana, then wrapped up Camp America with several timed games on Friday.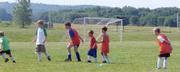 Yencic said because most of the campers were young it is sometimes hard to tell if a kid learned the skills they were teaching, but said she hoped they at least had fun playing soccer.
"I want them to have enjoyed playing the game that they were excited to come back the next day," Yencic said.
Harmon agreed, saying that their top priority was for all the kids to just enjoy the game of soccer each day out there, and stress learning the basic fundamentals in a fun atmosphere.
"Fun is everything, its number one," he said. "For two and a half hours, it needs to be. They were able to be relaxed and have fun."
He wanted the participants to know that soccer can be a lifetime sport, no matter how old you are.
"It doesn't have a shelf-life," he said, smiling. "They can stay connected to the sport, and in 10 years they will still be able to play. And then eventually their children will play with them."
Copyright 2018 The Lawrence Journal-World. All rights reserved. This material may not be published, broadcast, rewritten or redistributed. We strive to uphold our values for every story published.