Omaha Neb. — Oregon State was an underdog the moment it took the field at the College World Series.
The Beavers didn't come from the right part of the country. They didn't have enough pitching. They couldn't keep fighting off elimination.
Bill Rowe had one parting message for all those who doubted them:
"This is how the ring looks," the senior first baseman said.
Rowe scored the go-ahead run on second baseman Bryan Steed's throwing error in the bottom of the eighth inning, and Oregon State held on to beat North Carolina, 3-2, for its first College World Series title Monday night.
The Beavers (50-16) became the first team in CWS history to lose twice in Omaha and win the national championship. Oregon State also is the first truly Northern-based school to win the series since Ohio State in 1966.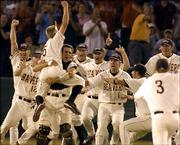 "I think we came here and a lot of people out there picked us to lose every single game, so thank you for doing that," closer Kevin Gunderson said. "It gave us a lot of motivation to go out there and prove those people wrong."
With the game tied at 2 in the eighth, Rowe drew a two-out walk, and Tyler Graham blooped a single into left. Tar Heels ace Andrew Miller, the No. 6 overall pick by Detroit, came on in relief of Daniel Bard and got pinch-hitter Ryan Gipson to one-hop a grounder to Steed.
The second baseman, who came in as a defensive replacement in the fifth, threw wide and past first baseman Tim Federowicz for the Tar Heels' fourth error of the game as Rowe slid into home with the go-ahead run.
"There was two outs, so I was just thinking about getting to third, and I knew it was going to take either a bad hop or a bad throw to score me on that," Rowe said. "I turned third, looked and saw the ball going toward the dugout, took two hard steps and realized I was going to be able to coast into home."
The Beavers stormed out of their dugout and mobbed Rowe as the Tar Heels (54-15) grew silent on the other side of the field.
"I probably got rid of it too quick," Steed said. "It was a little bit up the line. Didn't make the play."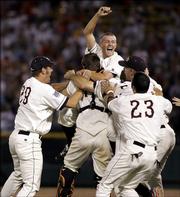 North Carolina put two runners on against Dallas Buck (13-3) with one out in the ninth, but Gunderson got Josh Horton to hit into a fielder's choice, and - with the tying run on third - got slugger Chad Flack to fly out to center to end it.
Gunderson, who won Game 2 by pitching a season-high 5 1â3 relief innings, threw his glove and hat in the air and waited as his teammates ran to the mound and piled on each other in celebration.
The victory concluded a remarkable run for the Beavers, who lost their first game in the tournament, 11-1, to Miami, but reached the championship round with four straight victories. After losing Game 1 to North Carolina, Oregon State pulled out two victories.
"This week in Omaha, the heart and character and fight that this team has - to come through the losers' bracket after getting spanked pretty good last Saturday and beat four great teams in the World Series," Gunderson said. "This team is made up of guys mostly from the Northwest, and I think we proved a lot of people wrong."
Copyright 2018 The Associated Press. All rights reserved. This material may not be published, broadcast, rewritten or redistributed. We strive to uphold our values for every story published.