Lexington, KY — Once the umpire called Roger Clemens' kid safe, a minor-league manager threw a major-league tantrum that would have made Lou Piniella, Earl Weaver and Tommy Lasorda proud.
It also cost Asheville Tourists manager Joe Mikulik a seven-day suspension and $1,000 fine.
Mikulik, who used to write "Never Surrender" on his wristbands when he played in the minors, put on a throwing, kicking and screaming show Sunday that was still the talk of baseball a day later.
The South Atlantic League also spent a lot of time talking about his antics and penalized him Monday night.
Upset with umpire Andy Russell's call in the fifth inning of Asheville's 5-2 loss, Mikulik rushed onto the field. The manager of the Colorado Rockies' Class A affiliate made a headfirst dive into second base and later pulled up the bag - taking a few tugs to get it done - before throwing it into right field.
By the time he got ejected, Mikulik was just getting warmed up. And by the time he was done, he had thrown a resin bag, several bats and blocked the umpires' locker room.
Photo Gallery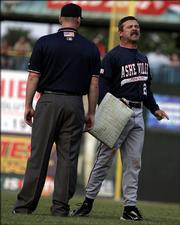 Rampaging skipper
"I don't think I ever lost total control, though it may look like it," Mikulik told the Asheville Citizen-Times earlier Monday. "It was just frustration, and I obviously went a little bit too far. I apologize to fans and to the umpires for my actions, and I regret what happened."
Los Angeles Dodgers outfielder Kenny Lofton played with Mikulik in the Houston organization and watched television highlights of the tirade his former teammate put on after Lexington's Koby Clemens was called safe at second base on a pickoff try.
"He was crazy," Lofton said, laughing hard before Monday night's game at Minnesota. "Whoo. When I saw it, I was like, 'OK, that's something that he had in him.' That explosiveness. I didn't know he was going to do all that.
"He had a lot of intensity, boy. Whoo. It wasn't bad. He was just ready to go. That's how he was. When I saw that, I was like, 'Well, it just finally came out,"' he said.
Piniella, Weaver and Lasorda were famed for their wild arguments with umpires. Mikulik's display was equally volatile.
"I could get two mannequins at Sears and umpire better than what I saw this whole series," he told the Lexington Herald-Leader.
Copyright 2018 The Associated Press. All rights reserved. This material may not be published, broadcast, rewritten or redistributed. We strive to uphold our values for every story published.