Kaiserslautern, Germany — The Socceroos were tough on Italy. The referee was tougher on Australia.
Another questionable call in this World Cup showed Italy the way to the quarterfinal Monday, giving the Italians a penalty kick that Francesco Totti converted for the 1-0 win as time expired.
Moments earlier, Italy's Fabio Grosso was dribbling a few strides from the goalmouth when Lucas Neill slid in front of him. The Italian cut in Neill's direction and tried to leap clear, but tripped over the defender's back.
To the amazement of the Socceroos, Spanish referee Luis Medina immediately ruled it a penalty with 12 seconds remaining in extra time.
Totti, a second-half substitute, sent his penalty kick high and to the right of goalkeeper Mark Schwarzer, who guessed correctly but couldn't stretch far enough to stop it. With no time left to restart, the Italians started celebrating.
"We suffered but we gave them no chances," said Italy coach Marcello Lippi, whose team plays Friday in the quarterfinals against Ukraine. "This is an incredible joy."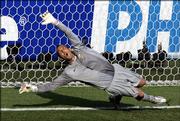 There was no joy for the Socceroos, whose howls of protest over the call gave way to head-shaking and resignment.
"I just can't believe it, mate," Australian forward Tim Cahill said. "We play all our lives to be honest on the pitch and to work hard and I suppose these days you fall over on the pitch and get a penalty, free kick whatever. It's disappointing.
"I'm furious. It's unbelievable. The luck we've had with refereeing decisions this World Cup. Everything's been against us."
About the only people in the Fritz-Walter-Stadion who thought Grosso was fouled were the Italians - and Medina.
With a match-fixing scandal rumbling along back home, only Italy could come up with this scenario - though there was no suggestion of any skullduggery here. Only more suggestions of a bad decision by the referee.
"It's cruel, very cruel," Australian striker Mark Viduka said. "This was a game where we really dominated. We had the feeling that if the game went into extra time we were going to beat them."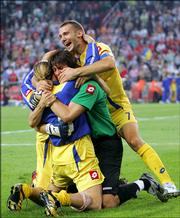 Ukraine 0, Switzerland 0, (Ukraine wins shootout, 3-0)
Cologne, Germany - Ukraine made the quarterfinals in its first World Cup by blanking Switzerland for 120 minutes, then shutting out the Swiss in the shootout.
Goalkeeper Oleksandr Shovkovskyi didn't have to work very hard all night, especially in the shootout. Two Swiss misses were right at him, the other went off the crossbar.
Meanwhile, Artem Milevskiy, Serhiy Rebrov and Oleg Gusev hit the net after Ukraine star Andriy Shevchenko's weak, low shot was stopped by Switzerland's Pascal Zuberbuehler.
The Ukrainians mobbed each other in a pile after the win, which put them in a match Friday against Italy at Hamburg.
Shevchenko said it was a "great victory."
"We suffered a lot and we're happy to have won for all Ukrainians," Shevchenko said. "We do not have the greatest players, but we make up for that by making sacrifices for each other, by playing with a lot of heart."
Copyright 2018 The Associated Press. All rights reserved. This material may not be published, broadcast, rewritten or redistributed. We strive to uphold our values for every story published.