In Japan, it is called shodo, the way of writing. But to Sanae Eda, it is like music.
"What makes it beautiful is having some balance between technique and freedom of expression," said Eda, assistant professor of East Asian Languages and Cultures at Kansas University.
Eda teaches Japanese calligraphy, the art of writing beautifully.
Eda's current students are area home-schoolers. But later this summer, she plans to extend her class to the public and offer a free course.
A course is planned for late July, though the schedule has not been set.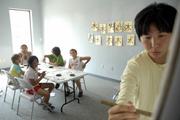 Eda's students gathered around a table recently for a lesson.
"Focus on the flow of your energy," Eda said as the students practiced on paper.
The art relies on technique. Each stroke goes in a specific order. The direction of the brush is not arbitrary. Even how one uses the free hand is important, Eda said. That hand stabilizes the paper, she said. Left hand and right hand correspond like yin and yang.
But, like music, learning how to play each note isn't enough.
"Just being accurate does not make you a good musician," she said.
That's where personal expression comes in.
"A music performer needs to have energy," Eda said.
Shodo, the style of calligraphy Eda teaches, originated in China. But it also was practiced by Japanese samurai, Eda said, as they trained to be focused and relaxed.
And it can have that result.
"You have to concentrate," Juliana Hacker, 10, said while painting the letters on paper. "You can't fool around."
Elora Figgins, 10, said the key is in the hands.
"I have to be really steady," she said.
Eda said she can see personality in each person's calligraphy. When students write large characters, that could be a sign of confidence or self-assurance. A student with small, deliberate strokes might be tidy or organized.
"It's interesting to see those personalities expressed in how they write," she said.
Sign up
For information on the upcoming Japanese calligraphy course, contact Randi Hacker, outreach coordinator for KU's Center for East Asian Studies, at 864-3832 or rhacker@ku.edu
Copyright 2018 The Lawrence Journal-World. All rights reserved. This material may not be published, broadcast, rewritten or redistributed. We strive to uphold our values for every story published.