Jeruaslem — With troops poised to invade Gaza, Prime Minister Ehud Olmert on Monday ruled out bargaining with the captors of an Israeli soldier and promised a "broad and ongoing" military offensive.
But large-scale army action appeared unlikely. Officials said they were pursuing a diplomatic solution and conceded that a broad attack would threaten the life of the 19-year-old hostage captured Sunday.
After more than 24 hours of silence, the militants claiming to hold Cpl. Gilad Shalit issued their first demands Monday. The groups, linked to the Hamas-led Palestinian government, said Israel should release all imprisoned Palestinian women and children under 18 in return for information about Shalit.
Olmert rejected the demand. Addressing Jewish leaders in Jerusalem, he charged that the Palestinian attack on an army post at a Gaza crossing and the abduction of the soldier were part of a "murderous, hateful, fanatical Islamic extremist desire to destroy the state of Israel."
"This is not a matter of negotiations, this is not a matter of bargaining," he declared. "Release of prisoners is absolutely not on the agenda of the Israeli government."
Shalit was seized at a military post near the Gaza border by militants who infiltrated Israel through a tunnel. The attack was the first successful infiltration by militants since Israel withdrew from Gaza in September and immediately threatened to plunge the region into a major flare-up of violence.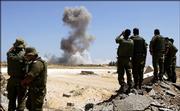 Speaking earlier to a tourism conference in Jerusalem, Olmert said he held the entire Palestinian leadership responsible for Shalit's safety and warned that his patience was wearing thin.
"I gave the orders to our military commanders to prepare the army for a broad and ongoing military operation to strike the terrorist leaders and all those involved," he said. "There will be immunity for no one."
Military officials said elite brigades and armored forces, backed by tanks, were sent to the frontier, where thousands of soldiers already are deployed.
With Israeli intelligence showing that Shalit was not seriously wounded, defense officials said there were no immediate plans for a massive ground incursion. Although Israel frequently carries out air raids in Gaza, ground troops have entered the area only three times - all briefly - since last year's pullout.
However, the officials said a limited operation could begin in the coming days. Such operations could include a rescue attempt or a limited mission meant to pressure Hamas to free the soldier. The officials spoke on condition of anonymity because they were not authorized to speak to the media.
Palestinian President Mahmoud Abbas, a moderate who has repeatedly clashed with Hamas, was working with Egyptian mediators and Arab and Western leaders to locate the soldier.
Hamas government spokesman Ghazi Hamad said he had information Shalit was alive and urged the captors to keep him safe. "I think we are interested in avoiding any confrontation or bloodshed," he told The Associated Press.
The abduction delivered a blow to Abbas' efforts to coax Hamas into accepting a plan implicitly recognizing Israel.
Copyright 2018 The Associated Press. All rights reserved. This material may not be published, broadcast, rewritten or redistributed. We strive to uphold our values for every story published.